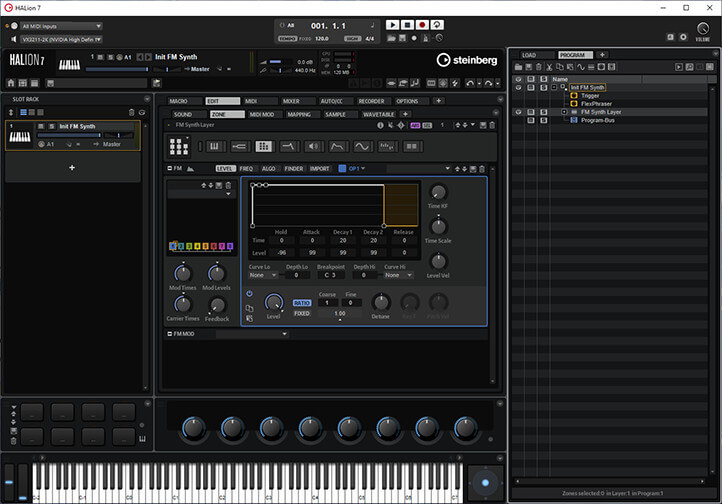 HALion 7 is a high-end software instrument that enables you to craft top-tier music and sound design. With its innovative features, this software provides you access to a diverse range of sounds and techniques that can help you create exceptional music.
By exploring the classic sound of FM synthesis, you can uncover unique sonic textures that add depth and character to your music. HALion 7 also offers the ability to utilize the power of spectral synthesis, enabling you to manipulate sound waves with precision and control.
Additionally, HALion 7 features an advanced approach to modulation that lets you shape sounds in new and exciting ways. You can create and customize unique envelopes, and explore a wide array of new effects that boost creativity and enhance the experience for bass players.
HALion 7 has a free companion product called HALion Sonic 7. HALion Sonic 7 is a stripped-down version of HALion 7 that is designed for users who want to play certain libraries created with HALion 7 (much like the Kontakt Player).
Here are some of the new and redesigned features:
FM Zone
Developed in collaboration with Yamaha, the pioneering company behind some of the most iconic FM synthesizers in history, the FM Zone is a game-changer for FM synthesis enthusiasts.
With the FM Zone, you can freely combine up to eight operators, utilizing them either as carriers or sending them to feedback loops, offering a vast array of sound design possibilities. The Algorithm Finder, a powerful and user-friendly algorithm designer, empowers you to create everything from classic DX7 tones to the most contemporary FM sounds.
Furthermore, HALion 7 now supports the import of DX7 and TX81Z SYX files in the FM Zone, providing a treasure trove of iconic FM sounds to experiment with.
The collaboration between Steinberg and Yamaha has produced a truly exceptional tool for sound designers and music producers, making HALion 7 with the FM Zone an essential addition to any production setup.
Spectacular
Experience the remarkable HALion spectral oscillator that showcases the newly developed time stretch and resynthesis algorithm, delivering an exceptional sound quality even at the most extreme settings. With this advanced feature, you can alter the playback speed in real-time without affecting the pitch, and convert samples into unique sounds.
Unlock the full potential of the Spectral Zone with the addition of formant shift, spectral filter, purity, inharmonicity, and the ability to preserve the previous spectrum functions when reaching the start or end of a sample. Moreover, the new FFT view provides an accurate and transparent view of the spectrum itself.
The Spectral Zone is a game-changer for music producers and sound designers, allowing them to create new sounds and textures with ease.
Modulation
HALion 7 has introduced a groundbreaking modulation system that allows you to effortlessly shape, adjust, and animate your sounds with precision. With the new modulation rows, you can instantly assign a new modulation to any parameter in the zone, making the process easier than ever before. By simply clicking on the modulation destination or source, you can quickly make further edits without any hassle.
The drag and drop feature also allows you to easily assign modulation sources to your sound. This new system, combined with the innovative visualization feature, provides you with a clear and comprehensive overview of all modulation signals.
In essence, HALion's new modulation system completely transforms the way you approach sound design. With its user-friendly interface and advanced functionality, you can now create dynamic and unique sounds with unparalleled ease.
Shaper Envelope
The latest version of the User Envelope tool boasts new and improved features to help you create custom envelopes with ease. With the addition of brush, pen, and eraser tools, you can intuitively draw and customize your envelopes according to your preferences. Not only that, but you also have access to a wide range of pre-designed shapes to choose from, or you can save your own custom shapes for future use.
But that's not all – the new Shaper mode takes envelope shaping to a whole new level. By syncing with your host DAW's tempo, you can cycle through shapes at the perfect pace to create a variety of customized LFOs. This feature adds a unique and dynamic element to your sound design and music production.
FM Lab
FM Lab is the ultimate FM synthesizer with eight operators, providing you with all the tools you need to create intricate and complex FM sounds. Step into the lab and discover a modern, user-friendly workspace equipped with everything you need to design FM sounds from scratch.
FM Lab boasts algorithms from iconic Yamaha DX7, FM-X, and TX81Z synthesizers, offering a vast range of possibilities for creating unique and intricate sounds. With 20 top-quality effects available in a five-insert rack, you can enhance your sound further, giving you more options to refine your creations.
Experience an extensive range of modulation options, including drag and drop assignable modulations, oscillator presets, and a dynamic arpeggiator that helps you create evolving sounds with ease. The user-friendly interface allows you to experiment with complex algorithms without worrying about programming.
FM Lab also features hundreds of presets, ranging from classic FM sounds to contemporary and progressive FM sounds that will help you kickstart your creations. With FM Lab, the possibilities are endless, and you'll have fun exploring its vast capabilities to create your unique sound.
Tales
Tales is an open-tuned guitar instrument that's ready to help you tell your stories through music. This guitar is meticulously crafted to produce beautiful soundscapes, enriched with a range of acoustic and synthesized textures. The unique feature of Tales is that each guitar string was individually sampled as an open note and then tuned to a different pitch, resulting in a pure and intimate sound for each string. Additionally, other articulations were recorded such as muted notes and harmonics, providing an even wider range of tonal options for your music.
Tales is a versatile instrument that can be used for a variety of musical genres, whether you're writing ballads, looking for contemporary sounds for underscoring, or aiming to add a fresh touch to your acoustic pop production. Every note played on Tales brings instant inspiration, giving you the tools to express your creativity and emotion through music.
Interface & Workflows
HALion 7 has been given a revamped and refreshing appearance, with a modernized interface and updated workflows. The aim is to simplify the software and provide more space, allowing users to immerse themselves in their creative process and stay there. The changes implemented result in a reduction of clicks, improved menus, zones and icons, as well as an optional auto-size function for the macro view.
Furthermore, HALion 7 has introduced innovative tools like the Shaper envelope to improve sound design capabilities, making it easier to shape sound to the user's specifications. Additionally, preconfigured screen sets for various use cases have been included, helping users to stay focused on the task at hand and avoid unnecessary distractions.
Overall, the enhancements to HALion's user interface and workflows aim to provide a more streamlined and intuitive experience for music producers and sound designers. With these improvements, users can concentrate on their creative pursuits without worrying about navigating through complex menus and functions.
Pitch-Shift & Time-Stretch Algorithms
HALion 7 introduces a new pitch-shift and time-stretch algorithm, specifically designed with musical content in mind. The developers have constructed this tool from the ground up, resulting in a high-precision algorithm that produces natural and precise sounds, even when set to extreme settings. This algorithm can be utilized in the spectral zone, providing a creative platform for experimentation.
Additionally, the sample zone can also employ this tool as a new warp mode to adjust samples, without them sounding unnatural. Through the use of phase locking, transient detection, and channel correlation, the algorithm effectively restores the natural sound of stereo samples, even during creative sound manipulation.
Wavetable Synthesis
HALion 7 brings an innovative approach to wavetables, where you have the freedom to design your own with a staggering 1,024 distinct waves. And that's not all; you can also import multichannel files of up to 5.1 surround and modify either the whole or separate channels to capture every nuance.
The most exciting feature is the newly added fully customizable Spectral Filter that can be tailored to each wave independently. Additionally, the automatic interpolation ensures seamless transitions between the preceding and subsequent waves, resulting in incredibly smooth soundscapes.
Wavetable Tools
Innovative and dynamic tools are now available to work with wavetables, enhancing the editing experience to new heights. HALion 7 comes equipped with the latest Acceleration and Target Speed parameters, which can be utilized for modulation.
Also, the new Hold function has been introduced to freeze the spectrum at the start or end of a wavetable. Furthermore, the latest sub-sample precision loop, Overlap Add and Spectrum Analyzer features provide unprecedented control and accuracy when editing wavetables.
These new features make HALion 7 the ultimate choice for composers, sound designers, and all enthusiasts of wavetable technology.
Sample Decomposition
HALion 7 now enables you to split every sample into its tonal and noise components, thereby opening doors to unexplored realms of sound design. You can blend the tonal part of an electric piano with the attack of a guitar sample and create an entirely new sound.
Similarly, you can isolate the noise part of a recording, run it through a custom effects chain while keeping the tone pristine. This sample decomposition feature not only helps in creating unique sounds but also aids in building novel libraries.
X-LFO
With its exceptional ability to add stunning movements, this tool can modify two-dimensional parameters for wavetable, FM, granular, and spectral zones, thereby enhancing the quality of your music production. Whether you want to create wobbly basslines or intricate FM sounds, the X-LFO has got you covered.
The X-LFO brings a new dimension to your music-making experience. It is designed to enrich your sounds with spectacular movements, making them more dynamic and vibrant. With its advanced modulating features, this tool can add life to any sound you produce, enabling you to create complex and captivating audio landscapes.
Whether you're a professional musician or an aspiring producer, the X-LFO is the perfect tool to take your music to the next level. With its intuitive interface and user-friendly controls, it's easy to experiment and create unique sounds that are sure to impress your audience.
MediaBay
With the newly redesigned MediaBay in HALion 7, searching for your desired sounds has become faster and more intuitive than ever. The interface has been thoroughly streamlined, resulting in a more organized and less cluttered layout. Additionally, the search feature is now context-sensitive, allowing for a more personalized and accurate search experience.
These improvements to the user experience make browsing through an extensive collection of samples, layers, programs, presets, and multis a breeze, ultimately saving you time and effort.
New Effects
1. VST Bass Amp
A powerful tool for bassists seeking to create their ideal sound. With six distinct amplifiers and four speaker cabinets, this device offers a vast range of possible combinations to suit any musical style. The amps are modeled on a carefully curated selection of iconic amplifiers from the 1950s through to the 2000s, providing a comprehensive range of options to take your bass sound from contemporary clean to deep, resonant tones and back again.
Additionally, the speaker cabinets are meticulously modeled, providing a diverse range of tones from punchy and rock-oriented to mellow and vintage-inspired. With so many options at your disposal, the VST Bass Amp empowers you to experiment with different combinations and find your perfect sound.
2. Studio EQ 24
Studio EQ 24 is a new four band parametric equalizer that provides you with complete control over your sound's tonal color. With specific gain, frequency, and quality settings for each frequency band, you can shape your audio to perfection. Additionally, the EQ comes equipped with low-cut and high-cut filters, making it an ideal tool for polishing your sound.
With the Studio EQ 24, you can now refine your audio's tonal characteristics to your desired preference. Whether you need to boost the bass or adjust the treble, this advanced equalizer enables you to fine-tune each frequency band to suit your unique requirements.
3. Bass Tape Ducking Delay
The Bass Tape Ducking Delay adjusts delay according to your playing style. This innovative tool subtly lowers the delay signal and maintains a dryer sound when you play aggressively. On the other hand, when you hold a note, the delay becomes more pronounced automatically, producing a more harmonious effect.
With the Bass Tape Ducking Delay, you can now enjoy a new level of control over your sound. Whether you're a musician, producer, or sound engineer, this device is an essential addition to your toolkit. Its advanced technology enhances the quality of your music, making it sound more polished and refined.
4. DI Driver
New bass effects designed specifically for bass guitarists seeking the legendary sound of crunchy overdrive. This device combines the features of a bass preamp with a powerful overdrive, all within a single compact unit.
Whether you're looking to add some grit and growl to your sound or simply want to enhance your bass tones with a touch of distortion, the DI Driver is the perfect solution. Its powerful preamp capabilities allow you to sculpt your sound to perfection, while its intuitive controls make it easy to dial in the perfect blend of overdrive and bass.
5. Bass Overdrive
An exceptional HALion 7 effect that delivers a warm, tube-like overdrive for your bass guitar. It comes equipped with an additional tone control feature, which allows you to easily add or reduce harmonics as desired. With this functionality, you can now achieve everything from subtle low-end saturation to hard-hitting crunch in your bass sound.
The Bass Overdrive effect is designed to deliver outstanding performance and is perfect for bassists who are looking to enhance their tone. The added harmonics control feature provides unparalleled versatility, allowing you to fine-tune your sound to suit your unique style and preference. Whether you're playing live or in the studio, Bass Overdrive will give you the power and flexibility to take your bass tone to the next level.
6. Bass Octaver
The Bass Octaver enables you to add a sub-octave to your existing sound. This feature is particularly useful for monophonic signals, where you can effortlessly manipulate the level of the original signal or even tweak its tonal quality.
Whether you're looking to add a new dimension to your basslines or craft unique sounds, the Bass Octaver is an excellent choice for any musician or producer. With its intuitive controls and versatile capabilities, you can easily shape your sound and bring your ideas to life.
7. Bass Chorus
Enhance the richness and depth of your sound with the dynamic effect of Bass Chorus. By utilizing pitch modulation, this effect can add an immersive, multi-dimensional quality to your bass sound. You have the flexibility to adjust the frequency of the pitch modulation and synchronize it with your preferred host application for optimal performance.
8. Bass Envelope Filter
Bass Envelope Filter responds to the nuances of your playing style and smoothly tweaks the filter to refine the high, low, and middle frequencies of your audio. With adjustable attack and release times, this device provides a versatile modulation signal that allows you to control the filter with precision.
Experience the unparalleled ease of playing with a tool that adapts to your playing dynamics and enhances your sound quality. The Bass Envelope Filter offers a seamless integration of your playing style and provides the flexibility to customize your sound to your liking.
9. Bass Phaser
Enhance and expand the depth of your audio by employing the technique of phase modulation with the Bass Phaser. This powerful tool allows you to fine-tune the sweep rate, sync it seamlessly to the tempo of your project, and precisely regulate the extent of modulation effect spanning across higher and lower frequencies.
By manipulating the phasing of the audio signal, the Bass Phaser can impart a unique sonic character to your basslines and guitar riffs. It creates a dynamic, swirling motion that adds richness and complexity to your music, making it sound more engaging and captivating.
With its intuitive controls and customizable parameters, the Bass Phaser offers a versatile and flexible sound-shaping tool that can cater to a variety of music genres and production styles. Whether you want to achieve a subtle, understated effect or a pronounced, intense modulation, the Bass Phaser can help you achieve your desired sound effortlessly.
10. Clipper
The Clipper effect adds a vivid and lavish harmonic distortion to your sound. It offers enhanced precision with its oversampling parameter, making it an ideal choice for enhancing the sound of guitars, basses, keyboards or drums. Even at the highest level of distortion, the Clipper ensures that your sound never appears harsh or unpleasant to the ears.
Oscilloscope
The Oscilloscope module in HALion 7 enables you to visualize audio signals in real-time. With this latest feature, you have the flexibility to adjust the timeframe and toggle between the left and right channels or the summed signal. This function proves to be extremely useful for analyzing your audio, and also for gaining insight into how modulation affects the signal.
Impulse Responses
Expand your creative horizons by incorporating your own impulse responses into HALion's REVerence reverb. Whether you have recordings of halls, studios, or legendary hardware units, you can now load them into HALion 7, providing you with endless possibilities to enhance your sound.
With HALion's ability to import custom impulse responses, you can personalize your soundscape and tailor your reverb to suit your artistic vision. You'll have the flexibility to experiment with your own unique reverb effects that can make your music stand out from the crowd.
In addition to the option to load your custom impulse responses, HALion 7 offers a selection of IRs from iconic chamber, spring, and plate units such as the EMT 240 "Goldfolie", Lexicon 224, AKG BX5, and RE-501. These units have been tried and tested in the industry and have left a lasting impression on countless recordings.
Tools
Experience the power of the Macro Page Editor with its amazing new functionalities such as the spectral view in sample displays and other advanced tools that enable you to create highly imaginative instruments.
HALion 7 has now made it possible for you to incorporate bitmaps and SVGs from external editors. Furthermore, you can import SVG resources directly into HALion and animate them using Lua expressions.
The updated appearance and color options provide you with greater flexibility and enable faster control design. When combined with the new vector graphic controls library, the outcome is truly stunning instrument design.
Conclusion
In conclusion, HALion 7 is a truly groundbreaking software instrument that offers a range of powerful features and capabilities. Whether you are a professional composer, producer, or sound designer, HALion 7 provides you with the tools you need to create world-class music and sound design. With its impressive range of features, intuitive interface, and streamlined workflow, HALion 7 is the ultimate tool for anyone looking to take their music to the next level.