E-MU Vintage Collection Sound ROM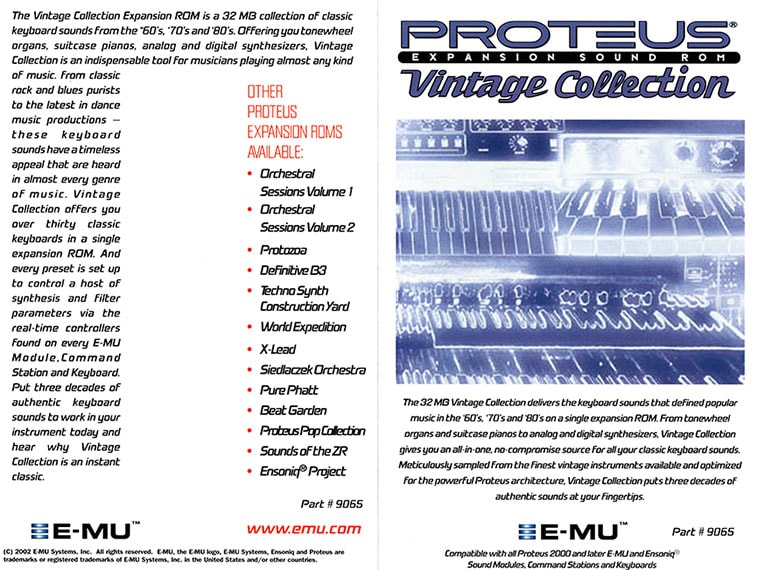 The Vintage Collection Expansion ROM is a 32 MB collection of Classic keyboard sounds from the '60's, '70's and '80's. With an extensive complement of tonewheel organs, suitcase pianos, analog and digital synthesizers, Vintage Collection is an indispensable tool for musicians playing almost any kind of music, from classic rock and blues purists to the latest in dance music productions.
These keyboard sounds have a timeless appeal that is heard in almost every genre of music. Vintage Collection offers you over thirty classic keyboards in a single expansion ROM. And every preset is set up to control a host of synthesis and filter parameters via the real-time controllers found on every E-MU Module, Command Station & Keyboard. Put three decades of authentic keyboard sounds at your fingertips.
SIMM Code Number: 23
Label: VINTAGE PRO
LCD Display Name: VROM
Banks: 4 Banks
Instrument: Vintage Pro and Vintage Keys Keyboard
Mica's Dream
Neo Classic
ProBros
Gen Xtra
Preset & Instrument Listing
Presets - Bank 0
000. syn:Vintage
001. epo:Classic EP
002. epo:CP Seventy
003. epo:Wurly
004. key:Clavinet
005. org:B-3 OvrDrive
006. epo:Mello Tines
007. vox:BigTronChoir
008. led:BeginAgain
009. bas:TaurusPedals
010. str:Tron Violins
011. brs:'99 Brass
012. syn:SEM
013. syn:Airscopix
014. syn:OB Glider
015. kit:Electra
016. syn:Analogic
017. epo:Dyno Vox
018. epo:CP Pad
019. org:Jazz Pro
020. key:Clav Flanger
021. org:Old Red Top
022. pad:Sentinels
023. vox:Light Aahs
024. syn:Back at U
025. bas:Mini Snap
026. cmb:Flute/String
027. brs:Thick Brass
028. syn:Synth Stack
029. syn:OB-Xa
030. brs:Tron Brass
031. kit:FusionMover
032. epo:Dyno Piano
033. epo:Chorus Dyno
034. epo:Lite Dyno
035. epo:Heavy Dyno
036. epo:StudioDyno1
037. epo:StudioDyno2
038. epo:DynoStcase
039. epo:DynoChorus
040. epo:Stereo EP
041. epo:DynoOdd
042. epo:Dyno Soft
043. epo:String EP
044. epo:MetalBars
045. epo:MetalBarsXfd
046. epo:EP Silver
047. epo:Canada
048. epo:Toyo
049. epo:MarshMello
050. epo:Mello EP1
051. epo:Mello EP2
052. epo:Mellow Pop
053. epo:OB Tine EP
054. epo:OB EP
055. epo:FM Tines
056. epo:FM SimpleEP
057. epo:FM Delicate
058. epo:FM Phase
059. epo:FM Flanger
060. epo:Dynamic FM
061. epo:Analog FM
062. epo:Wurlilayer
063. epo:Mama'sWurli
064. epo:Real CP
065. epo:ClassicCP
066. epo:CP 70
067. epo:CP Layer
068. epo:Vintage CP
069. epo:Rock CP
070. epo:Stage CP
071. epo:CP Light
072. epo:CP Tight
073. epo:CP Uptown
074. epo:Lullaby
075. epo:AOR Ballad
076. key:Clav 1
077. key:Clav 2
078. key:Clav 3
079. key:Clav1&2
080. key:StereoClav 2
081. key:Buzzy Clav
082. key:FunkMaster
083. key:PhaseClav
084. key:SynthClav
085. key:PhaseClav2
086. key:Phase Clav3
087. key:TwoClavs
088. key:ThinClav
089. key:Clavsichord
090. key:Monster Clav
091. key:AnaClav
092. key:Klav Mav
093. key:WakTclav
094. key:Clav Freak
095. key:Kloid's Jam
096. key:Clav Wah 1
097. key:Clav Wah 2
098. key:Clavicle
099. key:P5Hrpsichrd
100. key:Clavitzer
101. org:All Out
102. org:1st3 2ndPerc
103. org:1st3 3rdPerc
104. org:1st4 Vib
105. org:1st4Vib2Perc
106. org:1st4Vib3Perc
107. org:Six Out
108. org:Jazz'n Jimmy
109. org:1st3HiDrBr
110. org:1st3FullDist
111. org:1st4VFullDis
112. org:Pipe Organ
113. org:Far Away
114. org:Clicky
115. org:Comp
116. org:PortaVib
117. org:PortaVibSt
118. org:Shimmer
119. org:OBX Organ
120. org:PlasticOrg
121. org:MelloCombo
122. org:BrashCombo
123. org:ComboTrem
124. org:Dr. Please
125. org:Grindo
126. org:Smooth
127. org:Perc Three
Presets - Bank 1
000. syn:Wide OB
001. syn:P10
002. syn:Juno
003. syn:Rogue
004. syn:Huge SEM
005. syn:Round Mini
006. syn:Big Mini
007. syn:Juno Pulse
008. syn:10101
009. syn:Profit/Loss
010. syn:FuzzBell
011. syn:Random OB
012. syn:Phase1Alert
013. syn:JX Oct Split
014. syn:JunoOctSplit
015. syn:Syrupy JP
016. syn:ProphetPiano
017. syn:ArpClarinet
018. syn:JupyPad
019. syn:MoogShrtPuls
020. syn:Poly ARP
021. syn:SEM Bat Fuzz
022. syn:Juno & DX
023. syn:Deep Sky
024. syn:80zFuzzPad
025. syn:P10 SkySweep
026. syn:Nephilim
027. syn:P5 PolySync
028. syn:OB Glider2
029. syn:Power Juno
030. syn:OBSEMFuzz1
031. syn:OBSEMFuzz2
032. syn:Vin Syn
033. syn:Regbit
034. syn:Stabber
035. syn:Distant
036. syn:Synth Ringer
037. syn:Late 80z
038. syn:Late 80z 2
039. syn:NoteOffChime
040. syn:Nunzio
041. syn:FiltrBrass1
042. syn:FiltrBrass2
043. syn:Robot ca1960
044. syn:Glass Pipe
045. syn:Merlot
046. syn:AirCommand
047. syn:Ex-plorer
048. syn:Sneaker Flap
049. syn:Poly Mono
050. syn:Angel Eyes
051. syn:Little
052. syn:Lush
053. syn:OBeast Sync
054. syn:ArmyOJunos
055. syn:OB Saw Octs
056. syn:Wall O Saws
057. syn:TouchRez
058. syn:X Tron
059. syn:Shade Pad
060. syn:Total Recall
061. syn:Ice Eyes
062. syn:Enchanted
063. syn:Chimelope
064. syn:S&Holding
065. syn:Runner
066. syn:Weild 5ths
067. syn:NightTime
068. syn:Perc Rouge
069. syn:MiniSaw Octs
070. syn:ProFive Octs
071. syn:Arp Octs
072. syn:Modular Octs
073. syn:Mucho Octs
074. syn:RogueSawOcts
075. syn:SySaPhUs
076. syn:P5 Sync 1
077. syn:P5 Sync 2
078. syn:P5 Sync 3
079. syn:Morpheus
080. syn:Synphonix 1
081. syn:Synphonix 2
082. syn:KotoRize
083. syn:Arp Axxe
084. syn:Sin Brass
085. syn:Megasync
086. syn:Sawphony
087. syn:AnalogBell
088. syn:D Fiftease
089. syn:VS Ghost
090. syn:Now & Zen
091. syn:Metasynth1
092. syn:Metasynth2
093. led:Sonic Six
094. led:Muddy Sync
095. led:RhaspyClickr
096. led:BigSoloSqr
097. led:Pulse
098. led:M12
099. led:OBX SyncMono
100. led:PortaLead
101. led:Power Mini
102. led:WickedSquare
103. led:OverDrive101
104. led:Frank Stein
105. led:Odd Lead
106. led:Soft&Round
107. led:Glass Rim
108. led:Spike
109. led:Oh Boy
110. led:JunoOvrDrive
111. led:OB Lead
112. led:Mean Wheel
113. led:PulseFlanger
114. led:Zawi
115. led:Stinger
116. led:Raspy
117. led:Mini Soul
118. led:SawsOfOld
119. led:ThinPotent
120. led:OB Pulser
121. led:Full Body
122. led:Squawky OB
123. led:Skware!!
124. led:GrowlySynth
125. led:Big ARP
126. led:E-MU Modular
127. led:Funky Junk
Presets - Bank 2
000. pad:ChifferPad
001. pad:Thin Lad
002. pad:Lunar
003. pad:Believe
004. pad:Angel Eyes
005. pad:PreSamplers
006. pad:Sentinels2
007. pad:Ghost Vox
008. pad:O.D.
009. pad:Liquid 1
010. pad:Liquid 2
011. pad:Liquid 3
012. pad:Beauteous
013. pad:ProfitMargin
014. pad:Tri Res
015. pad:QuietSaws
016. pad:Lunar 2
017. pad:Slippery
018. pad:Matches
019. pad:Poly Pad
020. pad:iBubble
021. pad:M12 Skyline
022. pad:Raindance
023. pad:Horizons
024. pad:Big Pad
025. pad:SlitherPad
026. pad:HarshSwell
027. pad:Grainy
028. pad:GrimFemVox
029. pad:Pipey
030. pad:Organ Synth
031. pad:Fem Strings
032. str:MemMoogStrng
033. str:Solina
034. str:Elka Combo
035. str:SuperElka
036. str:Lush70'sFade
037. str:Big M12
038. str:Ensemble
039. str:Muffled
040. str:Sepiatone
041. str:Analog Harp
042. str:Old Time1
043. str:Old Time2
044. str:Old Time3
045. str:String Vox
046. str:String Flute
047. str:VeloBows
048. str:String Box
049. str:Elka & Mtron
050. str:Celli Sect
051. str:Smooth&Wide
052. str:String Fever
053. str:Its The Pitz
054. str:ClosetCleanR
055. str:String Cheez
056. str:Filtron
057. vox:Tron Males
058. vox:Cluttex
059. vox:SnowBound
060. vox:Chiffer
061. vox:BreathBlow 2
062. vox:TronMalesSt
063. vox:TronMixSt
064. vox:VS Ghost
065. vox:ThroatEnergy
066. vox:TalkBox Pro
067. vox:Moon Flute
068. brs:FullTrnBrass
069. brs:WindyBrass
070. brs:E2 Brass
071. brs:Big Swell
072. brs:Big Swell 2
073. brs:Rich Brass
074. brs:ElegantBrass
075. brs:F-Hrns
076. brs:Coronation
077. brs:HugeOB Brass
078. brs:BrassKicker
079. brs:Brassitude
080. wnd:StereoMtron
081. wnd:Flute Sect
082. wnd:Tron Flute
083. wnd:Flute Bed
084. wnd:SoftFlutes
085. wnd:LoFi Flute
086. wnd:Flooting
087. wnd:Dark Satyr
088. wnd:Reedy
089. cmb:Produkshun
090. cmb:CP/Strings
091. cmb:FM/Strings
092. cmb:EPJunoTron
093. cmb:Juno/P5
094. cmb:TronVoxStrng
095. cmb:Str & Brass
096. cmb:Dyno B to B
097. cmb:Flute&String
098. cmb:B3/EP
099. cmb:PulseMadness
100. cmb:Rogue Mini
101. cmb:Taurus&Strng
102. cmb:TarusStngVox
103. cmb:Gymnosticks
104. cmb:Wurli & Roti
105. cmb:Dyn Logic
106. cmb:TV Stack
107. cmb:Wurly B
108. cmb:SynStr+SynBs
109. cmb:Many Junos
110. cmb:80sStackBass
111. cmb:GtrStrings
112. cmb:C P R
113. cmb:MachineHeart
114. jam:DX Style
115. jam:CP Stage
116. jam:Clav
117. jam:Lush
118. jam:Latin
119. jam:Funkersize
120. bpm:Beat Row 1
121. bpm:Beat Row 2
122. bpm:Spinner
123. bpm:El Effo Sr.
124. bpm:Q Noiz Klock
125. bpm:S/H Operator
126. bpm:Q PulseKlock
127. bpm:RoboJive
Presets - Bank 3
000. bas:Big Taurus
001. bas:Big FM Bass
002. bas:Bottom 101
003. bas:Warm SEM
004. bas:Arpy Bass
005. bas:Mini Snap 2
006. bas:Arp Snap
007. bas:BigSnap
008. bas:FatFingers
009. bas:Deep End 1
010. bas:Deep End 2
011. bas:Wide & Deep
012. bas:ThiklySettld
013. bas:VintSynBass1
014. bas:MurkySweep
015. bas:LayerBass
016. bas:Expressive
017. bas:Taurnado
018. bas:Picote
019. bas:Finger
020. bas:Pilot
021. bas:Hummer
022. bas:Bagg
023. bas:TS Mini
024. bas:MonoMe
025. bas:MonoMe2
026. bas:Bounce
027. bas:303 Saws
028. bas:303 Squares
029. bas:Phatt Taurus
030. bas:So Lo Pro
031. gtr:Hackettism
032. gtr:Spy vs Spy
033. gtr:AirGuitar
034. gtr:Hit It
035. gtr:Wacka 1
036. gtr:Wacka 2
037. gtr:Jazzy
038. gtr:Clav Guitar
039. gtr:HarmonicTone
040. sfx:Evil Saws
041. sfx:DragonBreath
042. sfx:SpaceMuffin
043. sfx:GorgeousCrzy
044. sfx:Nepatunism
045. sfx:The Dead See
046. sfx:Hold Up
047. sfx:The Garden
048. sfx:Acid Rain
049. sfx:NoZ
050. arp:Loopy Gruv
051. arp:Drifter
052. arp:Classic
053. arp:Downtown
054. arp:Khord
055. arp:Tracker
056. arp:MinorHorns
057. arp:Sparkle
058. arp:DrumPitchy
059. arp:SquareThumpr
060. arp:MinorFinale
061. arp:HiPassCmputr
062. arp:EMU 2 Live!
063. arp:BowCircuit
064. arp:HardRepeat
065. arp:Tribal Toms
066. arp:DrumRoller
067. arp:ZipTripper
068. arp:Log Funk
069. bts:FastRock
070. bts:RockFunk
071. bts:Shuffle
072. bts:Chill Room
073. bts:Teardrop
074. bts:Evolution
075. bts:The Pulse
076. bts:Dreamland
077. bts:Fusion
078. bts:Jazz
079. bts:DropBeatBglu
080. kit:Acoustic GM
081. kit:Acoustic 2
082. kit:El GM Kit 1
083. kit:El GM Kit 2
084. kit:808
085. kit:909
086. kit:MS20
087. kit:MS20 #2
088. kit:SK-1
089. kit:SP1200
090. kit:Electronic 1
091. kit:Electronic 2
092. kit:Electronic 3
093. kit:Electronic 4
094. kit:Electronic 5
095. kit:HighBoy
096. kit:Double Kit
097. kit:VintagePhase
098. kit:Flashback
099. kit:Stadium
100. kit:Soft Fuzz
101. kit:NickleMix
102. kit:Soul Power
103. kit:Beef Cake
104. kit:BrightMoment
105. kit:Lil Popper
106. kit:InTheAir
107. kit:B Boy
108. prc:All Kicks
109. prc:All Snares
110. prc:All Toms
111. prc:All Hats
112. prc:All Cymbals
113. prc:Shakers
114. prc:Snaps
115. prc:Congas
116. prc:Misc
117. prc:Few ChoreMen
118. prc:Steeely 1
119. prc:Steeely 2
120. prc:Arnold 1
121. prc:8bit Blocks
122. prc:Air Strike
123. bts:Reggae
124. prc:A Sine
125. bts:NeoLatinRock
126. bts:NuRocker
127. :Default v1.0
Instruments
000. :None
001. epo:Dyno EP 1
002. epo:Dyno EP 2
003. epo:Dyno EP 3
004. epo:Dyno EP 4
005. epo:Dyno Low
006. epo:Dyno Med
007. epo:Dyno Hd/Med
008. epo:Dyno Lw/Hd
009. epo:Dyno Hard
010. epo:Mello EP
011. epo:Mello EP Low
012. epo:Mello EP Hd
013. epo:Wurly EP
014. epo:Wurly Soft
015. epo:Wurly Medium
016. epo:Wurly Hard
017. epo:CP70
018. epo:CP70 Medium
019. epo:CP70 Hard
020. epo:FM EP
021. org:1st3 Slow
022. org:1st3 Fast
023. org:1st4 Slow vb
024. org:AllOutSlwDst
025. org:AllOutFstDst
026. org:Perc 2nd
027. org:Perc 3rd
028. org:Farfisa
029. org:Vox Jaguar
030. key:Clavinet 1
031. key:Clavinet 2
032. syn:OB WideBrass
033. syn:OBX PWM
034. syn:OB Saw PWM
035. syn:OB PulseSync
036. key:OB Clav
037. epo:OB EP
038. syn:SEM Fuzz
039. syn:SEM Saws
040. syn:Rogue Saws
041. syn:Rogue Sqr
042. syn:Classic Mini
043. syn:Mini Saws
044. syn:JP8Brass
045. syn:SuperJuno
046. syn:Big JX
047. syn:Angry Juno
048. syn:P10 Big
049. syn:P10 Fat Saw
050. syn:P5 Sync
051. syn:P5 UniSync
052. syn:P5 Uni Saw
053. syn:P5 Piper
054. syn:M12 Lead
055. syn:ARP SyncMod
056. syn:ArpPlsRsmp
057. syn:Arp Saw
058. syn:Arp Square
059. syn:Sync Wah
060. syn:101VariPulse
061. syn:E-mu Modular
062. bas:Fat Taurus
063. bas:Taurus Osc.
064. bas:SEM QBass 1
065. bas:SEM QBass 2
066. bas:SEM QBass 3
067. bas:SEMSyncBs 1
068. bas:SEMSyncBs 2
069. bas:MiniSnapBass
070. bas:M WarmSquare
071. bas:PPG Bass
072. bas:PPG DigiBass
073. bas:P5 Bass
074. bas:ArpFatBass
075. bas:DX EP Bass 1
076. bas:DX EP Bass 2
077. bas:FM Bass
078. bas:FM Polybass
079. bas:Synth Hummer
080. bas:Pilot
081. bas:Bagg
082. bas:Finger
083. gtr:Electric
084. gtr:Happy Strum
085. gtr:Wacka 1
086. gtr:Wacka 2
087. str:Tron Strings
088. str:M12 Strings
089. str:Solina
090. str:Elka CelIo
091. str:Elka String
092. str:Elka Combo
093. str:Synth String
094. vox:Tron Males
095. vox:Tron Females
096. vox:Tron Mix
097. vox:P10 Choir
098. vox:Flight Aahs
099. brs:Tron Brass
100. wnd:Tron Flute
101. wav:MiniTriangle
102. wav:Mini Saw
103. wav:Mini Square
104. wav:Mini Pulse 1
105. wav:Mini Pulse 2
106. wav:JX Square
107. wav:JX Saw
108. wav:JX Pulse
109. wav:Juno Square
110. wav:Juno Saw
111. wav:Juno Pulse
112. wav:P10 Saw
113. wav:P10 Triangle
114. wav:P10 Pulse
115. wav:P10Inharmonc
116. wav:JX
117. wav:101 Square
118. wav:101 Saw
119. wav:Sine
120. wav:Sine Squared
121. wav:Sine InvSqrd
122. wav:Sine Cubed
123. wav:SineInvCubed
124. wav:Aluminum
125. nse:Spectrum 1
126. nse:Spectrum 2
127. nse:Spectrum 3
128. nse:Spectrum 4
129. nse:Hi Pass
130. nse:Xcite HiPass
131. nse:White Noise
132. nse:Pink Noise
133. nse:101 Noise
134. sfx:Whine
135. sfx:Clav Tick
136. sfx:Tack Attack
137. sfx:Bad Synth
138. sfx:Cluster Vox
139. sfx:Kluster Loop
140. kit:Electro GM 1
141. kit:Electro GM 2
142. kit:808
143. kit:909
144. kit:MS20
145. kit:MS20 #2
146. kit:SK-1
147. kit:SP1200
148. kit:Electronic 1
149. kit:Electronic 2
150. kit:Electronic 3
151. kit:Electronic 4
152. kit:Electronic 5
153. kit:Electronic 6
154. kit:Electronic 7
155. kit:Electronic 8
156. kit:Acoustic GM
157. kit:Acoustic 2
158. kit:Acoustic 3
159. kit:Acoustic 4
160. kit:Jazz Brush
161. kit:Hybrid
162. prc:All Kicks
163. prc:All Snares
164. prc:All Toms
165. prc:All Hats
166. prc:All Cymbals
167. prc:Shakers etc
168. prc:Snaps etc
169. prc:Congas etc
170. prc:Misc
171. prc:Kick 1
172. prc:Kick 2
173. prc:Kick 3
174. prc:Kick 4
175. prc:Kick 5
176. prc:Kick 6
177. prc:Kick 7
178. prc:Kick 8
179. prc:Kick 9
180. prc:Kick 10
181. prc:Kick 11
182. prc:Kick 12
183. prc:Kick 13
184. prc:Kick 14
185. prc:Kick 15
186. prc:Kick 16
187. prc:Kick 17
188. prc:Kick 18
189. prc:Kick 19
190. prc:Kick 20
191. prc:Kick 21
192. prc:Kick 22
193. prc:Kick 23
194. prc:Kick 24
195. prc:Kick 25
196. prc:Snare 1
197. prc:Snare 2
198. prc:Snare 3
199. prc:Snare 4
200. prc:Snare 5
201. prc:Snare 6
202. prc:Snare 7
203. prc:Snare 8
204. prc:Snare 9
205. prc:Snare 10
206. prc:Snare 11
207. prc:Snare 12
208. prc:Snare 13
209. prc:Snare 14
210. prc:Snare 15
211. prc:Snare 16
212. prc:Snare 17
213. prc:Snare 18
214. prc:Snare 19
215. prc:Snare 20
216. prc:Snare 21
217. prc:Snare 22
218. prc:Snare 23
219. prc:Snare 24
220. prc:Snare 25
221. prc:Snare 26
222. prc:Snare 27
223. prc:Snare 28
224. prc:Snare 29
225. prc:Snare 30
226. prc:Snare 31
227. prc:Snare 32
228. prc:Snare 33
229. prc:Snare 34
230. prc:Snare 35
231. prc:Tom 1
232. prc:Tom 2
233. prc:Tom 3
234. prc:Tom 4
235. prc:Tom 5
236. prc:Tom 6
237. prc:Tom 7
238. prc:Tom 8
239. prc:Tom 9
240. prc:Tom 10
241. prc:Tom 11
242. prc:Tom 12
243. prc:Tom 13
244. prc:Tom 14
245. prc:Tom 15
246. prc:Tom 16
247. prc:Tom 17
248. prc:Hat 1
249. prc:Hat 2
250. prc:Hat 3
251. prc:Hat 4
252. prc:Hat 5
253. prc:Hat 6
254. prc:Hat 7
255. prc:Hat 8
256. prc:Hat 9
257. prc:Hat 10
258. prc:Hat 11
259. prc:Hat 12
260. prc:Hat 13
261. prc:Hat 14
262. prc:Hat 15
263. prc:Hat 16
264. prc:Hat 17
265. prc:Hat 18
266. prc:Hat 19
267. prc:Hat 20
268. prc:Hat 21
269. prc:Hat 22
270. prc:Hat 23
271. prc:Hat 24
272. prc:Hat 25
273. prc:Hat 26
274. prc:Hat 27
275. prc:Cymbal 1
276. prc:Cymbal 2
277. prc:Cymbal 3
278. prc:Cymbal 4
279. prc:Cymbal 5
280. prc:Cymbal 6
281. prc:Cymbal 7
282. prc:Cymbal 8
283. prc:Cymbal 9
284. prc:Cymbal 10
285. prc:Cymbal 11
286. prc:Cymbal 12
287. prc:Cymbal 13
288. prc:Cymbal 14
289. prc:Cymbal 15
290. prc:Cymbal 16
291. prc:Vibraslap
292. prc:Clave 1
293. prc:Clave 2
294. prc:Clave 3
295. prc:Cowbell 1
296. prc:Cowbell 2
297. prc:Cowbell 3
298. prc:Cowbell 4
299. prc:Tamb 1
300. prc:Tamb 2
301. prc:Triangle 1
302. prc:Triangle 2
303. prc:Whistle
304. prc:Shaker 1
305. prc:Shaker 2
306. prc:Shaker 3
307. prc:Shaker 4
308. prc:Shaker 5
309. prc:Shaker 6
310. prc:Shaker 7
311. prc:Shaker 8
312. prc:Shaker 9
313. prc:Shaker 10
314. prc:Shaker 11
315. prc:Shaker 12
316. prc:Shaker 13
317. prc:Shaker 14
318. prc:Shaker 15
319. prc:Shaker 16
320. prc:Shaker 17
321. prc:Shaker 18
322. prc:Shaker 19
323. prc:Shaker 20
324. prc:Shaker 21
325. prc:Shaker 22
326. prc:Shaker 23
327. prc:Shaker 24
328. prc:Shaker 25
329. prc:Clap 1
330. prc:Clap 2
331. prc:Clap 3
332. prc:Clap 4
333. prc:Clap 5
334. prc:Clap 6
335. prc:Clap 7
336. prc:Snap
337. prc:Conga 1
338. prc:Conga 2
339. prc:Conga 3
340. prc:Conga 4
341. prc:Conga 5
342. prc:Conga 6
343. prc:Conga 7
344. prc:Conga 8
345. prc:Conga 9
346. prc:Conga 10
347. prc:Conga 11
348. prc:Conga 12
349. prc:Conga 13
350. prc:Conga 14
351. prc:Conga 15
352. prc:Misc 1
353. prc:Misc 2
354. prc:Misc 3
355. prc:Misc 4
356. prc:Misc 5
357. prc:Misc 6
358. prc:Misc 7
359. prc:Misc 8
360. prc:Misc 9
361. prc:Misc 10
362. prc:Misc 11
363. prc:Misc 12
364. prc:Misc 13
365. prc:Misc 14
366. prc:Misc 15
367. prc:Misc 16
368. prc:Misc 17
369. prc:Misc 18
370. prc:Misc 19
371. prc:Misc 20
372. prc:Misc 21
373. prc:Misc 22
374. prc:Misc 23
375. prc:Big Hit 1
376. prc:Big Hit 2
377. prc:Scratch 1
378. prc:Scratch 2
379. sfx:Wakka 1
380. sfx:Wakka 2
381. sfx:Wakka 3
382. sfx:Wakka 4
383. sfx:Wakka 5
384. sfx:Wakka 6
385. sfx:Wakka 7
386. sfx:Wakka 8
387. sfx:Wakka 9
388. sfx:Wakka 10
389. sfx:Wakka 11
390. sfx:Wakka 12
391. sfx:Wakka 13
392. sfx:Wakka Map
393. sfx:Tick 1
394. sfx:Tick 2
395. sfx:Tick 3
396. sfx:Tick 4
397. sfx:Tick 5
398. sfx:Tick 6
399. sfx:Tick 7
400. sfx:Tick 8
401. sfx:Tick 9
402. sfx:Tick 10
403. sfx:Tick 11
404. sfx:Tick 12
405. sfx:Tick 13
406. bas:Bright Saw
407. bas:BrightResSaw
408. bas:BrightSquare
409. bas:Res Square