E-MU Techno Synth Construction Yard Sound ROM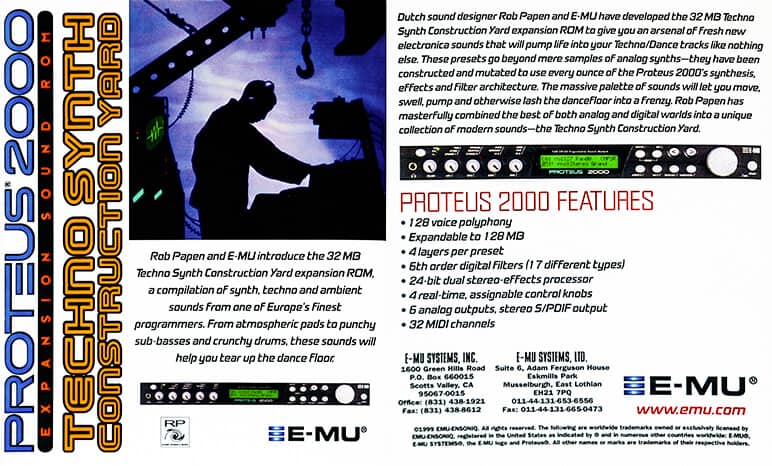 Dutch sound designer Rob Papen and E-MU have developed the 32 MB Techno Synth Construction Yard Expansion ROM to give you an arsenal of fresh new electronica sounds that will pump life into your Techno/Dance tracks like nothing else.
Rob Papen's Masterful & Unique Collection
These presets go beyond mere samples – they have been constructed and mutated to use every ounce of your Proteus-platform module's synthesis, effects, and filter architecture. The massive palette of sounds will let you move, swell, pump, and otherwise lash the dance floor into a frenzy.
Rob Papen has masterfully combined the best of both analog and digital worlds into a unique collection of modern sounds – the Techno Synth Construction Yard.
SIMM Code Number: 04
Label: TECHNO or TECHNO SYNTH
LCD Display Name: TeCnO
Banks: 4 Banks
Instrument: Orbit-3
Yard Dance
Preset & Instrument Listing
Presets - Bank 0
000. hit:Intruder
001. bpm:Voxa Move
002. syn:ScreamSync 1
003. kit:909 Audition
004. pad:Rise to Fall
005. tec:Vel Swing
006. bas:T-Be Sawy 1
007. pad:Thin Strings
008. kit:GM Groove 1
009. org:Dancy 1
010. sfx:Phee Two Kay
011. wnd:Panflute Sof
012. kit:GM 808-1 BD1
013. kit:Noise Hits
014. amb:Aioon Pad
015. syn:Romancer
016. led:Proteo Moogy
017. tec:Dutch Stab 1
018. tec:Kraft Kord
019. amb:Seam to Pad
020. syn:80s Brass
021. syn:Modulair Seq
022. bas:Warm Groovy
023. kit:GM 808-2 BD2
024. kit:909-1 Dance
025. prc:Voca Snare
026. sub:Prophet
027. bpm:Pad Winder
028. tec:Velo VoX 1
029. bas:SH-101 Choru
030. kit:TeCnO 4
031. bas:T-Be Distort
032. kit:TeC Percus
033. bpm:SemiLife
034. led:Modern Fifth
035. bas:Krafta Bass
036. tec:Pizzi Chord
037. hit:Ito 11th 1
038. bpm:Vox Sequence
039. syn:Juno Dance 1
040. bas:Swing
041. pad:Soft 2000
042. tec:Velo PWM 1
043. tec:Snaro Lead
044. hit:Happy Major3
045. pad:Floating
046. tec:Da Chord me
047. hit:Sweet 7 Pizz
048. bpm:Mystical
049. tec:Rogue Chord
050. pad:Tron Analog
051. bas:Deep mover
052. bas:Deep Steady
053. pad:Soft Oooh
054. bas:Talky Voxa
055. kit:GM Groove 2
056. kit:GM Groove 3
057. kit:GM TeCnO 6
058. kit:GM TeCnO 7
059. kit:GM TeCnO 8
060. tec:Z-PlaneChord
061. hit:Expensive
062. hit:Sweet Maj7 1
063. bpm:Pad Sequence
064. syn:Micro Dream
065. amb:Soft to Lead
066. kit:GM 909-2 HH2
067. sfx:Emu TeCnO
068. sfx:Proteus 2000
069. tec:Velo Sync
070. bas:T-Be Pulsy 1
071. tec:Super Juno 1
072. hit:TeCnO Major2
073. syn:Tune Wood
074. tec:Velo PWM 2
075. bas:Digital Wave
076. vox:Ya How Split
077. sfx:Time Travel
078. sfx:Spectr Waves
079. syn:Prophet Sync
080. pad:Soft Rise
081. bas:Bottle Octav
082. pad:Z-Plane 2000
083. hit:TeCnO Major5
084. hit:BE Minor 1
085. bas:Square it
086. sub:Fend Mini
087. bas:Fend Reso
088. bpm:Z-Plane Trip
089. prc:VintageMetal
090. amb:Sea Flutes
091. sub:Rogua Deep
092. sfx:Reso Dive 1
093. bas:Rogue Da
094. hit:Big Minor 3
095. hit:Soft Major 2
096. wnd:Bottle Me
097. hit:Prophecies
098. sfx:Sha Dive
099. hit:Amb Minor 1
100. hit:Amb Minor Re
101. pad:Water Lake
102. kit:GM 909-1 HH1
103. kit:GM CR-78 1
104. kit:GM Dance 1
105. kit:GM Dance 2
106. kit:GM TeCnO 1
107. kit:GM TeCnO 2
108. kit:GM 808 Hip 1
109. kit:GM 808 Hip 2
110. kit:GM Dance 3
111. kit:GM Dance 4
112. kit:GM Dance 5
113. kit:GM TeCnO 3
114. kit:GM TeCnO 4
115. kit:GM TeCnO 5
116. amb:Human Dive
117. bas:To B@SS
118. bas:Mini Dow
119. bas:T-Be Sawy 2
120. tec:Swap Lead
121. syn:Waves Rising
122. bas:TeC B@SS Oct
123. bas:TeC Layer
124. bas:TeC Attack
125. sub:Low B@SS
126. bas:To Puls
127. bpm:Org Sequence
Presets - Bank 1
000. bas:To B@SS 2
001. bas:To B@SS 3
002. bas:To B@SS 4
003. bas:Dofty
004. org:Dancy 2
005. org:Dancy 3
006. org:Dancy 4
007. org:Dancy 5
008. org:Dancy 6
009. org:Dancy 7
010. org:Dancy 8
011. org:Dancy 9
012. org:Dancy 10
013. org:Dancy 11
014. org:Dancy 12
015. org:The Dance
016. org:Filtrosa
017. org:Syntha
018. org:Deep Fi-Bass
019. org:Bliss Filter
020. org:Major Chord
021. org:Minor Chord
022. org:Major Chord2
023. org:Minor Chord2
024. org:Drop Dance
025. org:Kraft Work
026. prc:Disco BD
027. bas:SH-101 1
028. sfx:Music by …
029. bpm:Compute Me
030. bas:Fend Reso 2
031. bas:Mini XX
032. tec:Dutch Filtro
033. syn:Hall Synth
034. tec:Inspector
035. bas:To-Mo Bass
036. orc:Pizzicato
037. bas:To Low Bass
038. sub:Digital Deep
039. syn:Juno Dance 2
040. bpm:Octave Movy
041. hit:Big Minor 1
042. bpm:WoWoW Me
043. hit:Amb Minor 2
044. tec:Spiriment
045. sfx:Reso Dive 4
046. orc:Pizzicato Oc
047. orc:TeC Pizzi 1
048. orc:TeC Pizzi 2
049. orc:TeC Pizzi 3
050. orc:TeC Pizzi 4
051. sub:Prophet Deep
052. bas:T-Be Sawy 3
053. pad:Soft Proteus
054. bas:Mini Q
055. vox:Aa Ie Deep
056. tec:Watch Out
057. bas:T-Be Sawy 4
058. vox:Ten Sea Sea
059. sfx:Prophet Swap
060. tec:Phase Thin
061. vox:Oie The Moi
062. vox:Oie
063. vox:Moi
064. hit:Big Minor 4
065. hit:Happy Major1
066. hit:Happy Major2
067. kit:TeCnO 4 #4
068. kit:TeCnO 5 #3
069. kit:TeCnO 6 #3
070. kit:TeCnO 6 #4
071. hit:Happy Major4
072. hit:TuT Minor 2
073. hit:TuT Minor 3
074. wnd:Bottle Two
075. hit:TeC Maj Pizz
076. tec:Dominate
077. sfx:Tune Tectos
078. sfx:Hollow Noise
079. sfx:The Dutch
080. sfx:DJ re Loop
081. sfx:Weirdo Cymb
082. syn:PPG my Bell
083. hit:Big Minor 2
084. hit:Soft Major 1
085. hit:TeCnO Major1
086. hit:TeCnO Major3
087. hit:TeCnO Major4
088. hit:Sweet Maj7 2
089. hit:Sweet Maj7 3
090. hit:Sweet Maj7 4
091. hit:BE Minor 2
092. hit:Soft Major 3
093. sfx:Reso Dive 2
094. tec:Watch Two
095. syn:Pizzi Ahay
096. org:Silly
097. org:Silly Two
098. org:Hybride
099. sfx:Reso Dive 3
100. hit:The end..
101. kit:909-2 Dance
102. kit:909-3 Dance
103. kit:909-4 Dance
104. kit:909-5 Dance
105. kit:909-6 Dance
106. kit:909-7 Dance
107. kit:909-8 Dance
108. kit:909-9 Dance
109. kit:909-10 Dance
110. kit:909-11 Dance
111. kit:909 BD proce
112. kit:909 BD clean
113. wnd:Bottle Veloc
114. kit:GM 909-1 HH2
115. kit:GM 909-2 HH1
116. kit:GM 909-3 HH1
117. kit:GM 909-3 HH2
118. sfx:Breath
119. bas:Da Moogy
120. bas:Da Moogy Tec
121. sub:Low Da Moogy
122. bas:Da Attack
123. syn:Flangy Da
124. bas:Bottle
125. wnd:Panflute Vel
126. kit:TeCnO 1
127. kit:TeCnO 1 #2
Presets - Bank 2
000. kit:TeCnO 2
001. kit:TeCnO 2 #2
002. kit:TeCnO 3
003. kit:TeCnO 3 #2
004. kit:TeCnO 4 #2
005. kit:TeCnO 5
006. kit:TeCnO 5 #2
007. kit:TeCnO 6
008. kit:TeCnO 6 #2
009. kit:TeC Percus 2
010. pad:PolyMoogy I
011. bpm:Filter Seq 1
012. bas:Vocalize
013. pad:5th Station
014. bas:Sub Attack
015. bas:Down Bass
016. kit:TeC BD 1mono
017. kit:TeC BD 2mono
018. kit:TeC BD 3mono
019. kit:TeC BD 4mono
020. kit:TeC BD 5mono
021. kit:TeC BD 6mono
022. kit:Noise Hits 2
023. kit:Noise Hits 3
024. kit:NoiseH.velo1
025. kit:NoiseH.velo2
026. kit:NoiseH.velo3
027. tec:Trance I Whl
028. pad:Zzzz Pad
029. syn:Loner
030. tec:Velo Dorga
031. tec:Cotcha Dance
032. syn:Wave Bell
033. syn:Layer Me
034. bas:Tracker
035. syn:Guitar Pads
036. pad:Tradition
037. bas:Dokter SH101
038. pad:Far East Sun
039. tec:Velo PWM 3
040. tec:Trance Later
041. bas:Nasty One
042. vox:Noisy Aah
043. syn:Super Mars
044. bpm:HMTL Synth
045. syn:MegaFiltoros
046. tec:Trance Now
047. pad:Logos
048. tec:Venga Lady
049. tec:Velocity Mo
050. bas:Za Stronger
051. sub:Sub Organo
052. tec:Dirtylize
053. amb:Valley Pad
054. sub:Low Swing
055. bpm:Puls Show
056. syn:Classic Rise
057. bpm:8 oscillator
058. pad:SuperNova
059. tec:Sequenca
060. pad:Syntha Choir
061. bpm:Fun-2-U Seq
062. tec:Trance Wheel
063. amb:Dream Saws
064. tec:Trance On
065. pad:Far To Soft?
066. sfx:White BPM
067. amb:Evening Pad
068. tec:To Be Or Not
069. bas:Early Razer
070. bpm:Feature Show
071. amb:Schulze 1977
072. bpm:Slit Rythmn
073. pad:Phasalon
074. bpm:Waveron
075. kit:GM TeCnO 10
076. amb:Galactic End
077. bpm:E-mu Lize
078. syn:Super Layer
079. amb:Dream Vibes
080. pad:Chorusy
081. tec:Club Lead II
082. bas:Be Square II
083. bas:Da Lowa
084. tec:Voltage Lead
085. sfx:Water @ Mars
086. sfx:Fiction It
087. tec:Industial
088. bpm:Time Vox Pad
089. tec:Club Lead I
090. bpm:Mover Rogue
091. pad:DJAlka Lady
092. bpm:Wave to Pad
093. bas:Balled Bass
094. syn:P-5 Brass
095. tec:Jazz Lead I
096. tec:Whl Trance 1
097. pad:PolyMoogy II
098. hit:Minor C++
099. wnd:Syntho Panfl
100. amb:Empty@Fields
101. hit:midi clocky
102. bas:Simple Sawer
103. syn:Velvet Lead
104. bas:Mini XX / I
105. pad:Panfluto
106. bpm:Time MetaPad
107. kit:GM Grunche 1
108. pad:Steeper I
109. org:Cool Stack
110. bas:To Puls On
111. bas:T-Be Digi 1
112. org:Bass Dancer
113. pad:Synth Choir+
114. bpm:Accento Pad
115. pad:DJAlka Phase
116. tec:Tranco Lead
117. tec:Whl Trance 2
118. pad:Z-Plane Fall
119. tec:Dirtylize II
120. bas:Phat On
121. pad:MegaLayer I
122. bpm:System 55
123. prc:Finger snap
124. prc:Tambourine
125. kit:Drum&Bass 1
126. prc:Shaky LoopC4
127. prc:Super BD
Presets - Bank 3
000. arp:Dutch Dance
001. pad:Emulator I
002. arp:PanBell
003. arp:Uglylizon
004. prc:TeC Clap 1st
005. prc:TeC Clap 1
006. prc:TeC Clap 2st
007. prc:TeC Clap 2
008. prc:TeC Clap 3
009. prc:TeC Clap 4st
010. prc:Reverse CLP1
011. prc:Reverse CLP2
012. prc:80s Clap 1st
013. prc:80s Clap 1
014. prc:TeC Clap 5
015. prc:TeC Clap 6
016. prc:TeC Clap 7
017. prc:808 Clap 1st
018. prc:808 Clap 1
019. prc:909 CLP+Revs
020. prc:Reso Squeek1
021. prc:Reso Squeek2
022. prc:Reso Squeek3
023. prc:Reso Squeek4
024. prc:Reso Squeek5
025. sfx:Reso Dive Me
026. sfx:Vintage Perc
027. prc:MS20 Bongos1
028. prc:MS20 Bongos2
029. arp:ProtoWave
030. arp:T-S-C-Y
031. prc:TeC Snare 3
032. bpm:Layer Rhythm
033. arp:Shallow Tech
034. arp:Move-Z
035. arp:Wide Stereo
036. arp:T-Be Razor
037. arp:Tooth Quence
038. sfx:FictionPlace
039. arp:T-DigiPuls 1
040. arp:TSCY chord
041. arp:TSCY T-Bee 1
042. arp:Real Timer
043. arp:Whl.Trancy 1
044. amb:Cave search
045. arp:Velocity BP1
046. arp:B-passer 1
047. tec:Tech Radar 2
048. pad:Daydreamer
049. arp:RumbleGroove
050. arp:Zoo Field
051. arp:Seqencer Led
052. arp:TeC O Quence
053. arp:PanflutoMove
054. arp:Bottlesync
055. pad:Orbitolon
056. arp:Doweron
057. arp:TSCY T-Bee 2
058. arp:DreamChord 2
059. arp:Digi Shallow
060. arp:Es-Ha 101 1
061. arp:Bass Ooh one
062. arp:Syncolon
063. arp:OrbiterWave
064. arp:SH-One O One
065. arp:Chase Trance
066. kb2:EP with Pad
067. arp:DJalka Chord
068. arp:T-Be Rogue
069. pad:MegaLayer II
070. arp:Voltage Tech
071. arp:Dance Floor
072. arp:Noise Seq 1
073. amb:Wave Orbit
074. arp:Noise Seq 2
075. arp:Bass&Clavi
076. pad:Phase Orbit
077. arp:Chord Tech 1
078. arp:T-DigiPuls 2
079. arp:SH-One O Two
080. sfx:dangerzone
081. arp:Chord Tech 2
082. pad:Silk water
083. tec:Seq Juno Bas
084. arp:B-passer 2
085. bpm:Accento Pad2
086. bas:Sub Attack 2
087. pad:Steeper II
088. syn:Harpsidigi
089. sfx:TechBoom C4
090. sfx:Lazer Guns 1
091. pad:Square !!
092. prc:Brush noiser
093. org:Perc Stack
094. arp:Moogion
095. sfx:VintageRetro
096. prc:Lazer Guns 2
097. sfx:RisingNoise1
098. arp:Vox Field
099. arp:Whl.Trancy 2
100. sfx:RisingNoise2
101. prc:H-SN C2/C4 1
102. prc:H-SN C2/C4 2
103. prc:H-SN C2/C4 3
104. prc:TjaTjow C2C4
105. prc:Tech Snare
106. arp:Whl.Trancy 3
107. sfx:Spectrumize
108. syn:After Flutes
109. syn:Known Fifth
110. led:Soft Aahs
111. led:Carnival
112. hit:TuT Minor 1
113. bas:The X Seven
114. bpm:Beam me Up
115. pad:Blue Sky
116. hit:BE MinorPizz
117. bpm:Pad to fase
118. led:Terra Luna
119. bpm:Time Vox
120. sfx:Orwell
121. bpm:Rocket Ship
122. bpm:Weird Song
123. led:Dance Diva
124. led:Rodin's Knee
125. sfx:Freak Out
126. snd:by Rob Papen
127. :TemplateV2.0
Instruments
000. :None
001. hit:C minor #1
002. hit:C Major #1
003. hit:C minor #2
004. hit:C minor #3
005. hit:C minor#3Rev
006. hit:C Major #2
007. hit:C Major #3
008. hit:C Major 7th
009. hit:C minor #4
010. hit:C minor #5
011. hit:C minor 11th
012. wnd:Panflute 1
013. wnd:Panflute 2
014. wnd:Panflute 3
015. org:CX3-01
016. org:CX3-02
017. org:CX3-03
018. org:CX3-04
019. org:CX3-05
020. org:CX3-06
021. org:CX3-07
022. org:CX3-08
023. org:CX3-09
024. org:CX3-10
025. org:CX3-11
026. org:CX3-12
027. org:Dance CX-3
028. org:Krafty Org
029. wav:Mini Saw
030. wav:Mini SawTri
031. wav:Mini Pulse 1
032. wav:Mini Pulse 2
033. wav:Mini Pulse 3
034. wav:Mini Sinus
035. syn:Saw Strings
036. wav:PWM-3
037. vox:Vox du Aah
038. vox:Vox du Ooooh
039. syn:Rogue Saws
040. vox:Vox du Aah#2
041. vox:Spacy Ladies
042. syn:My Bellos
043. vox:Vox du Aah#3
044. syn:La Bellos
045. syn:Rogue Saws#2
046. syn:Rogue Saws#3
047. wav:PWM-3 #2
048. wav:PWM-3 #3
049. wav:PWM-3 #4
050. wav:PWM-3 #5
051. wav:PWM-3 #6
052. syn:Dominate
053. syn:Dominate #2
054. syn:Dominate #3
055. wav:PWM-1+2
056. wav:PWM-1
057. wav:PWM-1 #2
058. wav:PWM-1 #3
059. wav:PWM-1 #4
060. wav:PWM-1 #5
061. wav:PWM-1 #6
062. wav:PWM-2
063. wav:PWM-2 #2
064. wav:PWM-2 #3
065. wav:PWM-2 #4
066. wav:PWM-2 #5
067. wav:PWM-2 #6
068. kit:Tec.01-3 CL+
069. wav:PWM-1+2 #2
070. sub:P600 Bass
071. sub:P600 Bass #2
072. sub:P600 Bass #3
073. sub:P600 Bass #4
074. sub:P600 Bass #5
075. syn:Rogue Ya
076. syn:Rogue Ya #2
077. syn:Rogue Ya #3
078. syn:Rogue Ya #4
079. syn:Rogue Ya #5
080. syn:Rogue Ya #6
081. syn:Rogue Ya #7
082. syn:Rogue Ya #8
083. syn:Rogue Ya #9
084. syn:Rogue Ya #10
085. syn:Rogue Ya #11
086. syn:Rogue Ya #12
087. bas:Digital Bass
088. sub:FENBass
089. sub:FENBass #2
090. sub:FENBass #3
091. sub:FENBass #4
092. sub:FENBass #5
093. bas:Mini Fen #1
094. bas:Mini Fen #2
095. bas:Mini Fen #3
096. bas:Mini Fen #4
097. bas:Mini Fen #5
098. bas:Mini Fen #6
099. bas:Mini Fen #7
100. wav:Saw
101. wav:Saw #2
102. wav:Saw #3
103. wav:Saw #4
104. wav:Saw #5
105. wav:Saw #6
106. wav:Be Square
107. wav:Be Square #2
108. wav:Be Square #3
109. wav:Be Square #4
110. wav:Be Square #5
111. wav:Be Square #6
112. wav:Pulse 2
113. wav:Pulse 2 #2
114. wav:Pulse 2 #3
115. wav:Pulse 2 #4
116. wav:Pulse 2 #5
117. wav:Pulse 2 #6
118. bas:Swing Bass
119. syn:Sync-P600
120. syn:Sync-P600 #2
121. syn:Sync-P600 #3
122. syn:Sync-P600 #4
123. sfx:White Noise
124. sfx:Pink Noise
125. wnd:Taki Bottle
126. wnd:Dream Bottle
127. wnd:Att Bottle
128. bas:Bottle Bass
129. syn:Saw Str. #2
130. syn:La Bella
131. syn:Una Bella
132. wav:Brian Wave
133. wav:Cognac Wave
134. wav:WaveBell
135. syn:Deep Rate
136. syn:Micro Dream
137. syn:Ambient Cry
138. sfx:Prophet Swap
139. syn:Mini-XX
140. syn:Mini-XX #2
141. syn:Mini-XX #3
142. syn:Mini-XX #4
143. syn:Mini-XX #5
144. str:Pizzicato
145. str:Pizzica C3
146. str:Pizzica E3
147. str:Pizzica F3
148. str:Pizzica B3
149. str:Pizzica D4
150. str:Pizzica F#4
151. str:Pizzica A4
152. str:Pizzica B4
153. str:Pizzica C5
154. str:Pizzica F5
155. syn:Saw Str. #3
156. syn:B@SS
157. syn:B@SS #2
158. syn:B@SS #3
159. syn:B@SS #4
160. syn:B@SS #5
161. wav:Wave 1 Vocal
162. wav:Wave 2 Vocal
163. wav:Wave 3 Vocal
164. wav:Wave 4 Vocal
165. wav:Wave 5 Vibe
166. wav:Wave 6 EP
167. wav:Wave 6 EP#2
168. wav:Wave 5 Vib#2
169. wav:Wave 7 Vocal
170. wav:Wave 8 Soft
171. wav:Wave 9 Bell
172. wav:Wave 10 Hard
173. wav:Wave 10Hard2
174. wav:Wave 11 MW
175. wav:Wave 11 MW 2
176. wav:Wave 8 Soft2
177. wav:Wave 12 Clav
178. vox:EMU Vocode
179. vox:Proteus 2000
180. vox:EMU Techno
181. syn:Sawy Moogy
182. syn:Sawy Moogy#2
183. kit:Techno 01-1
184. kit:Tec.01-1 BD
185. kit:Tec.01-1 SN
186. kit:Tec.01-1 CL+
187. kit:Tec.01-1 HH
188. kit:Techno 01-2
189. kit:Tec.01-2 BD
190. kit:Tec.01-2 SN
191. kit:Tec.01-2 CL+
192. kit:Techno 02-1
193. kit:Tec.02-1 BD
194. kit:Tec.02-1 SN
195. prc:Tec. Tabla 1
196. kit:909 Kit 01
197. kit:Tec.02-1 CL+
198. kit:Techno 02-2
199. kit:Tec.02-2 BD
200. kit:Tec.02-2 SN
201. prc:Noise Tjow
202. kit:909 Kit 02
203. kit:Techno 03-1
204. kit:Tec.03-1 SN
205. kit:Techno 03-2
206. kit:Tec.03-2 SN
207. kit:Techno 04-1
208. kit:Tec.04-1 SN
209. kit:Techno 05-1
210. kit:Tec.05-1 SN
211. kit:Techno 06-1
212. kit:Tec.06-1 SN
213. kit:Techno 06-2
214. kit:Tec.06-2 SN
215. kit:Techno Prc 1
216. kit:Tec.Prc HH
217. kit:Tec.Prc Rest
218. kit:Tec.Prc BD
219. prc:Tune Wood
220. prc:Tune Cowbell
221. syn:Saw Str. #4
222. sfx:Low Tabla
223. sfx:TuneEffectos
224. sfx:Hollow Noise
225. syn:Saw Str. #5
226. sfx:EffectaDutch
227. prc:Tech Snare
228. kit:Noise Hits
229. prc:Noise Hit 01
230. prc:Noise Hit 02
231. prc:Noise Hit 03
232. prc:Noise Hit 04
233. prc:Noise Hit 05
234. prc:Noise Hit 06
235. prc:Noise Hit 07
236. prc:Noise Hit 08
237. prc:Noise Hit 09
238. kit:Techno BD 01
239. kit:Techno BD 02
240. prc:Techno BD 01
241. prc:Techno BD 02
242. prc:Techno BD 03
243. prc:Techno BD 04
244. prc:Techno BD 05
245. prc:Techno BD 06
246. prc:Techno BD 07
247. prc:Techno BD 08
248. prc:Techno BD 09
249. prc:Techno BD 10
250. prc:Techno BD 11
251. prc:Techno BD 12
252. prc:Techno BD 13
253. prc:Techno BD 14
254. kit:Tec.02-1 C+1
255. kit:Tec.02-1 C+2
256. kit:Tec.02-1 C+3
257. kit:Tec.02-1 C+4
258. prc:808 BD loop
259. prc:Tec.Snare 01
260. prc:Tec.Snare 02
261. prc:Tec.Snare 03
262. prc:Tec.Snare 04
263. prc:Tec.Snare 05
264. prc:Tec.Snare 06
265. prc:Tec.Snare 07
266. prc:Tec.Snare 08
267. prc:Tec.Snare 09
268. prc:Tec.Snare 10
269. prc:Tec.Snare 11
270. prc:Tec.Snare 12
271. prc:Tec.Snare 13
272. prc:Tec.Snare 14
273. prc:Tec.Snare 15
274. prc:Tec.Snare 16
275. prc:Tec.Snare 17
276. prc:Tec.Snare 18
277. prc:Tec.Snare 19
278. prc:Tec.Snare 20
279. prc:Tec.Snare 21
280. prc:Tec.Snare 22
281. prc:Tec.Snare 23
282. prc:Tec.Snare 24
283. prc:Tec.Snare 25
284. prc:Tec.Snare 26
285. prc:Tec.Snare 27
286. prc:Tec.Snare 28
287. prc:Tec.Snare 29
288. prc:Tec.Snare 30
289. prc:Tec.Snare 31
290. prc:Tec.Snare 32
291. prc:Tec.Snare 33
292. prc:Tec.Snare 34
293. prc:Tec.Snare 35
294. prc:Tec.Snare 36
295. prc:Tec.Snare 37
296. prc:Tec.Snare 38
297. prc:Tec.Snare 39
298. prc:Tec.Snare 40
299. prc:Tec.Snare 41
300. prc:Tec.Snare 42
301. prc:Tec.Snare 43
302. prc:Tec.Snare 44
303. prc:Tec.Snare 45
304. prc:Tec.Snare 46
305. prc:Tec.Snare 47
306. prc:Tec.Snare 48
307. prc:Tec.Snare 49
308. prc:Tec.Snare 50
309. prc:Tec.Snare 51
310. prc:Tec.Snare 52
311. prc:Tec.Snare 53
312. prc:Tec.Snare 54
313. prc:Tec.Snare 55
314. prc:Tec.Snare 56
315. prc:Tec.Snare 57
316. prc:Tec.Snare 58
317. prc:Tec.Snare 59
318. prc:Tec.Snare 60
319. prc:Tec.Snare 61
320. prc:Tec.Snare 62
321. prc:Tec.Snare 63
322. prc:Tec.Snare 64
323. prc:Tec.Snare 65
324. prc:Tec.Snare 66
325. prc:Tec.Snare 67
326. prc:Tec.Snare 68
327. prc:Tec.Snare 69
328. prc:Hip Snare 1
329. prc:808 Room SN
330. vox:Tute
331. prc:Techno Claps
332. prc:Tec.Room CLP
333. prc:Tec.Rev.CLP
334. prc:Tec.Fat Clap
335. prc:Clap Reverse
336. prc:Squeek 1
337. prc:Squeek 2
338. prc:Noise Tja
339. prc:Hip Snare 2
340. prc:Tec. Open HH
341. prc:Tec. Tabla 2
342. prc:Hip Snare 3
343. prc:Hip Snare 4
344. kit:Tec.01GM HH
345. prc:Tec. Cabasa
346. prc:Tec. Bongo
347. prc:Tec. Conga
348. prc:Tec. Cricket
349. prc:Tec. Shycus
350. prc:Tec. Tabla 1
351. prc:Hip Snare 5
352. prc:Tec. Cl.HH
353. prc:Tec. Op.HH
354. kit:909 Kit 03
355. kit:909 Kit 04
356. kit:909 Kit 05
357. kit:909 Kit 06
358. kit:909 Kit 07
359. prc:CR-78 BD
360. prc:CR-78 Snare
361. prc:CR-78 Pok
362. prc:CR-78 Cowb.
363. prc:CR-78 Conga
364. prc:CR-78 Metal
365. prc:CR-78 Claves
366. prc:CR-78 Guiro1
367. prc:CR-78 Guiro2
368. prc:CR-78 Crick
369. prc:CR-78 Cl.HH
370. prc:CR-78 Op.HH
371. bas:V-Bass
372. syn:Mini Q
373. syn:Mini Q #2
374. syn:Mini Q #3
375. syn:Mini Q #4
376. syn:Mini Q #5
377. syn:Mini Q #6
378. prc:Squeek 3 Tnd
379. prc:Squeek 3 C5
380. prc:Squeek 3 C4
381. prc:Squeek 3 B2
382. prc:Squeek 4
383. prc:Squeek 5
384. prc:Hip Snare 6
385. syn:SyncScream
386. syn:SyncScream#2
387. syn:SyncScream#3
388. syn:SyncScream#4
389. vox:Thin Voxa
390. sfx:Noise Metalo
391. sfx:Noise Metal2
392. sfx:Noise Metal3
393. sfx:Spectrum Xyz
394. vox:Wow but How?
395. vox:Aah Yee
396. vox:Oh lee Moi
397. prc:Tec.Clap St.
398. prc:Old.Clap St.
399. prc:Old.Disco CL
400. prc:Old.New CLP1
401. prc:Old.New CLP2
402. prc:Old.New CLP3
403. vox:Oie
404. prc:Syn.Bongos
405. prc:Syn.Bongo #2
406. kit:GM BongoBass
407. kit:Tec.02-1 C+5
408. sfx:DJ Me Loop
409. vox:Techno Vocod
410. wav:Pulse 0
411. wav:Pulse 0 #2
412. wav:Pulse 0 #3
413. wav:Pulse 0 #4
414. wav:Pulse 0 #5
415. wav:Pulse 0 #6
416. wav:Pulse 1
417. wav:Pulse 1 #2
418. wav:Pulse 1 #3
419. wav:Pulse 1 #4
420. wav:Pulse 1 #5
421. wav:Pulse 1 #6
422. wav:Pulse 3
423. wav:Pulse 3 #2
424. wav:Pulse 3 #3
425. wav:Pulse 3 #4
426. wav:Pulse 3 #5
427. wav:Pulse 3 #6
428. wav:Pulse 4
429. wav:Pulse 4 #2
430. wav:Pulse 4 #3
431. wav:Pulse 4 #4
432. wav:Pulse 4 #5
433. wav:Pulse 4 #6
434. wav:Pulse 5
435. wav:Pulse 5 #2
436. wav:Pulse 5 #3
437. wav:Pulse 5 #4
438. wav:Pulse 5 #5
439. wav:Pulse 5 #6
440. kit:909 Kit 08
441. sfx:Weirdo Cymb2
442. kit:909 GM 01
443. prc:Talky
444. prc:St.Claps Spl
445. sfx:Weirdo Cymb1
446. sfx:Sha Dive
447. prc:Stereo Rim
448. kit:909 BD Proc1
449. prc:909RevSnare1
450. kit:909 BD Clean
451. prc:909RevSnare2
452. kit:909 Snares 1
453. prc:Tech Fat BD
454. kit:909-8noSnClH
455. sfx:Rattle Loop
456. prc:909BD Short1
457. prc:909BD Short2
458. sfx:Shaky Loop
459. prc:909BD Short3
460. prc:909BD Short4
461. prc:909BD Short5
462. prc:909BD Short6
463. prc:909BD Short7
464. prc:909BD Long01
465. prc:909BD Long02
466. prc:909BD Long03
467. prc:909BD Long04
468. prc:909BD Long05
469. prc:909BD Long06
470. prc:909BD Long07
471. prc:909BD Long08
472. prc:909BD Long09
473. prc:909BD Long10
474. prc:909BD Long11
475. prc:909BD Proc.
476. prc:909BD Clean1
477. prc:909BD Clean2
478. prc:Finger Snap
479. prc:909BD Clean4
480. prc:909BD Clean5
481. prc:909BD Clean6
482. prc:909BD Clean7
483. prc:909BD Clean8
484. prc:909BD Clean9
485. prc:909BDClean10
486. prc:909BDClean11
487. prc:909BDClean12
488. prc:909BDClean13
489. prc:909BDClean14
490. prc:909BDClean15
491. prc:909BDClean16
492. prc:909BDClean17
493. prc:909BDClean18
494. prc:909BDClean19
495. prc:909 Snare 01
496. prc:909 Snare 02
497. prc:909 Snare 03
498. prc:909 Snare 04
499. prc:909 Snare 05
500. prc:909 Snare 06
501. prc:909 Snare 07
502. prc:909 Snare 08
503. prc:909 Snare 09
504. prc:909 Snare 10
505. prc:909 Snare 11
506. prc:909 Tom 01
507. prc:909 Tom 02
508. prc:909 Tom 03
509. prc:909 Tom 04
510. prc:909BD Looped
511. prc:Tambourine
512. kit:909-8 noSNCL
513. kit:909-8 Claps
514. kit:909-8 Snares
515. kit:909-8 HiHats
516. kit:909-8 BDs
517. kit:909-8 CymRid
518. kit:909-8 Specia
519. kit:909-8 Sides
520. kit:CR-78GM1noHH
521. kit:CR-78GM1nHHS
522. kit:CR-78GM1nHSB
523. kit:909-noK+S+HH
524. kit:909 Kit01 BD
525. kit:909 Kit01 SN
526. kit:909 Kit01 HH
527. kit:909 Kit01 ++
528. kit:909 Kit02 BD
529. kit:909 Kit02 SN
530. kit:909 Kit03 BD
531. kit:909 Kit03 SN
532. kit:909 Kit04 BD
533. kit:909 Kit04 SN
534. kit:909 Kit05 BD
535. kit:909 Kit05 SN
536. kit:909 Kit06 ++
537. kit:909 Kit08 ++
538. kit:909 Kit08 SN
539. kit:909 Kit08++2
540. kit:909 Kit08 CL
541. kit:909GM01noSNH
542. kit:909GM01nSNHB
543. kit:909GM HHset1
544. kit:909GM HHset2
545. kit:808 GM 1 nHH
546. kit:808GM HiHats
547. kit:808 GM 1
548. kit:808 GM 2
549. kit:808 GM 2 nHH
550. kit:808GM1nSNHHB
551. kit:808GM1noHHSN
552. kit:808GM2nHHSNB
553. kit:808GM2noHHSN
554. prc:808 BD-1
555. prc:808 BD-2
556. prc:808 Snare 1
557. prc:808 Snare 2
558. prc:808 Claps
559. prc:808 Side
560. prc:808 Cowbell
561. prc:808 Claves
562. prc:808 Cymbal
563. prc:808 Bongo
564. prc:808 Conga
565. prc:808 Tom
566. prc:808 ReverbSN
567. prc:808 Cabasa
568. prc:808 Cl.HH
569. prc:808 Op.HH-1
570. prc:808 Op.HH-2
571. kit:CR-78 GM 1
572. kit:CR-78 HiHats
573. kit:909-01noKSNH
574. prc:808 Claps St
575. vox:Ie by Brian
576. zzz:by Rob Papen
577. syn:Da Bass+upp
578. syn:Da Bass+up#2
579. syn:Da Bass+up#3
580. syn:Da Bass+up#4
581. syn:Da Bass+upF1
582. syn:Da Bass+upC2
583. syn:Mini Dow-1
584. syn:Mini Dow-1#2
585. sfx:Thin Spectr.
586. sfx:Thin Spectr2
587. syn:Mini Dow-1#3
588. syn:Mini Dow-1#4
589. syn:Mini Dow-2
590. syn:Mini Dow-2#2
591. syn:Mini Dow-2#3
592. syn:Mini Dow-2#4
593. org:Jorgan 1
594. org:Jorgan 2
595. wav:Triangle Two
596. vox:Music 101101
597. sfx:Breath
598. sfx:Reso Saw1Mod
599. sfx:Reso Saw2mod
600. sfx:Reso Tri Mod
601. sfx:Reso PulsMod
602. sfx:Reso Mod Spl
603. sfx:Reso Saw3Mod
604. syn:Moving Waves
605. syn:MovingWaves2
606. prc:New Claps St
607. prc:New Claps
608. prc:Super Kick
609. sfx:VocodaSpectr
Rob Papen Techno Synth ROM Instrument Keymaps