E-MU Proteus Pop Collection Sound ROM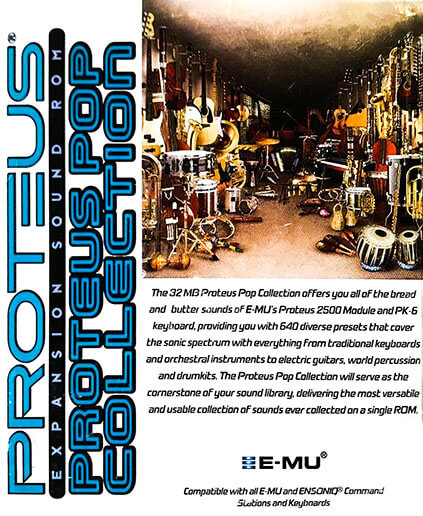 The 32 MB Proteus Pop Collection offers you all of the bread and butter sounds of E-MU's Proteus 2500 Module and PK-6 keyboard, providing you with 640 diverse presets that cover the sonic spectrum with everything from traditional keyboards and orchestral instruments to electric guitars, world percussion and drum kits.
The Proteus Pop Collection will serve as the cornerstone of your sound library, delivering the most versatile and usable collection of sounds ever collected on a single ROM.
Note: This ROM uses the exact same 32MB sample set as the original Composer ROM, but with an all new set of 640 preset patches. You may find a P2500 ROM with only 512 presets but these are rare and were shipped with the first few Proteus 2500 modules. These had a different SIMM Code Number: 18 or 20, and a different LCD Display Name: 2500.
SIMM Code Number: 17
Label: PROM 1
LCD Display Name: PROM1
Banks: 5 Banks
Instrument: PK-6 and Proteus 2500
Tahoe Run
Brave New World
The Sky Club
Caught Up
Preset & Instrument Listing
Presets - Bank 0
000. arp:Guitartar
001. kit:D&B Tight
002. str:Golden
003. bas:Sustainer
004. gtr:Clean String
005. bts:Foggy
006. led:UnderTone
007. key:Piano Grand
008. brs:Section 8
009. syn:ThikPlsLayer
010. vox:Christmas
011. hit:RingaDinDing
012. wnd:Reeds&String
013. prc:Q Stick
014. bpm:Trekia
015. pad:Japan Town
016. sfx:At the Races
017. bas:Sub Blipper
018. key:DownTheRhodz
019. key:Late Night
020. key:GlassPiano
021. key:Piano Mio
022. key:StereoGrand1
023. key:StereoGrand2
024. key:Grande
025. key:Piano/String
026. key:Piano Pad
027. key:EP 1
028. key:EP 2
029. key:EP 3
030. key:EP 4
031. key:EP 5
032. key:EP 6
033. key:Wurly
034. key:Wurly Tramp
035. key:ClavStandard
036. key:Process?Clav
037. key:Elecro7CP80
038. key:Fuzzy Pad
039. key:1-900Rhodez
040. key:Haunted EP
041. key:TwinkleToes
042. key:Missy
043. key:Techno Piano
044. key:HonkTonkeyz
045. key:Eno's Piano
046. key:FM JazzSplit
047. key:Bass/Keys1
048. key:PianoString2
049. key:Piano/Synth
050. key:Piano/Str/EP
051. key:Piano/Analog
052. key:Comp n' Pad
053. key:Stage Piano
054. key:Pno/Str/EP2
055. key:B-3 3rd
056. key:B-3 2nd
057. key:B-3 Lo/Hi
058. key:B-X Fade 1
059. key:B-X Fade 2
060. key:B-3 Leakage
061. key:Distortion
062. key:B-Hive
063. key:Assassin
064. key:Munchkin B3
065. key:AutoChord
066. key:(B3- PI)/7
067. key:Pno/Str/EP3
068. key:Space Case
069. key:Clav Metal
070. key:Clav 2
071. key:Sweet Ballad
072. bas:ATC 3
073. bas:Sub 1
074. bas:Sub 2
075. bas:Sub 3
076. bas:Big DX
077. bas:Perco Plus
078. bas:Micro Moog
079. bas:Basic Moog
080. bas:Log Bass
081. bas:PopGrowler
082. bas:ChubbyChaser
083. bas:Jaguar Bass
084. bas:InYourFace!
085. bas:Modem
086. bas:Nerdo
087. bas:Synth Bass
088. bas:PlasticBass
089. bas:Taurus
090. bas:Less Than
091. bas:FingerSlap1
092. bas:FingerSlap2
093. bas:Slap 1
094. bas:Slap 2
095. bas:Over Picked
096. bas:Finger 1
097. bas:Finger 2
098. bas:SE
099. bas:Street
100. bas:Finger Snap
101. bas:Bang'in Up
102. bas:Basss ic
103. bas:Acoustic
104. bas:Upright 1
105. bas:Upright 2
106. bas:Switch Up
107. bas:Harms
108. bas:Fretless 1
109. bas:Fretless 2
110. bas:Fretless 3
111. bas:Fretless 4
112. bas:Fretless 5
113. bas:Fretless 6
114. bas:LookMaNoFret
115. bas:Driver
116. led:TooMuchLead
117. led:Bender
118. led:SquareChorus
119. led:Balls Out
120. led:Spiraling
121. led:Prophetic
122. led:OneBigMoFo!
123. led:Class Lead
124. led:Pulse Lead
125. led:Worm 5
126. led:EKKo
127. led:Tutor
Presets - Bank 1
000. kit:Acoustic 1&2
001. kit:Acoustic 3&4
002. kit:Dance
003. kit:Kit 01
004. kit:Kit 02
005. kit:Kit 03
006. kit:Kit 04
007. kit:Kit 05
008. kit:Kit 06
009. kit:Kit 07
010. kit:Kit 08
011. kit:Kit 09
012. kit:Kit 10
013. kit:Kit 11
014. kit:Kit 12
015. kit:Kit 13
016. kit:Kit 14
017. kit:Kit 15
018. kit:Kit 16
019. kit:Swing Hop 1
020. kit:Swing Hop 2
021. kit:Swing Hop 3
022. kit:GM Dance
023. kit:E-mu 2003
024. kit:FunDaMental
025. kit:Booster
026. kit:All Niter
027. kit:StadiumRockr
028. kit:Hard Ass
029. kit:CurrentBeatz
030. kit:Crackle Kit
031. kit:Tainted
032. kit:BarelyLegal
033. kit:SicK Fx
034. kit:Krunkee
035. kit:Streetwise
036. bts:RasclyRapper
037. bts:WhatNow!#$%?
038. bts:RaD RaceR
039. bts:FilterPhaser
040. bts:BiteZapper
041. bts:Inna City
042. bts:Ripped
043. bts:Detourant
044. bts:MAD Onna
045. bts:Bleak
046. bts:Magnetic
047. bts:Stringy
048. bts:CuzIWuzStond
049. bts:Electro
050. bts:Jungle*Club
051. bts:Moderno
052. bts:Nu Metal
053. bts:Outside
054. bts:Rubbish
055. bts:Smasher
056. bts:BigPimpin!
057. bts:ChunkyButt
058. bts:PhatterStill
059. bts:Lowness
060. bts:FreakShifter
061. bts:Maestro
062. syn:Unsuspecting
063. kit:KastOff
064. prc:Kicks 1
065. prc:Kicks 2
066. prc:Snares 1
067. prc:Snares 2
068. prc:Hats 1
069. prc:Hats 2
070. prc:Cymbals 1
071. prc:Cymbals 2
072. prc:Toms 1
073. prc:Toms 2
074. prc:Shakers
075. prc:Maracas
076. prc:Timbales 1
077. prc:Timbales 2
078. prc:Congas + 1
079. prc:Congas + 2
080. prc:Bells 1
081. prc:Bells 2
082. prc:Blocks 1
083. prc:Blocks 2
084. prc:Tams 1
085. prc:Tams 2
086. prc:Claps 1
087. prc:Claps 2
088. prc:Snaps
089. prc:Claves
090. prc:Orch
091. prc:Misc
092. prc:Misc Perc 1
093. prc:Misc Perc 2
094. prc:Vibraslap
095. prc:Guiro Roll
096. prc:Cowbells
097. prc:Agogos
098. prc:Carillon
099. prc:Belltree
100. prc:Flexi
101. prc:Soft Vibes
102. prc:Hard Vibes
103. prc:Both Vibes
104. prc:VibeSwap
105. prc:Xylo
106. prc:Marimba
107. prc:Kalimba
108. prc:Plexy
109. prc:KikKastr
110. prc:XcitSyn
111. prc:Xcite
112. prc:MetalThing
113. prc:I lands
114. prc:Squelch!
115. str:Big Layerz
116. prc:Vibe Split
117. bel:A Pale Horse
118. bel:Chimes
119. bel:Droplets
120. bel:PlinkerBells
121. bel:Tinker
122. bel:HauntedBells
123. bel:Metal Trip
124. key:Foot Keyz
125. key:NightOrgan
126. key:Dyno Grand
127. key:Tines
Presets - Bank 2
000. led:Wormy
001. led:Warning!
002. led:Warm Worm
003. hit:Organ Hits 1
004. hit:Dance Chord
005. hit:Voxxy
006. hit:Garagiste
007. hit:HellaBoom
008. hit:Honker
009. hit:Cazio Jamin!
010. hit:EchoOrgan
011. hit:Get Funky!
012. hit:Sad Ending
013. hit:Vox Hits
014. hit:Brassist
015. hit:Lush Dance
016. bas:PWM Oldskool
017. bas:Octave Cat
018. led:FusionMini
019. led:HippoSauce
020. vox:REBman
021. vox:Aah 1
022. vox:Aah 2
023. vox:Ooh 1
024. vox:Ooh 2
025. vox:Filter 1
026. vox:Filter 2
027. vox:Filter 3
028. vox:Filter 4
029. vox:Big Chorus
030. vox:Talk to Me
031. vox:Harmony
032. vox:Male
033. vox:Shimmerings
034. vox:ReflecSyn
035. vox:Luna'sWood
036. vox:TV Land
037. str:Orchestra1
038. str:Orchestra2
039. str:Section1
040. str:Section2
041. str:Pizz 1
042. str:Pizz 2
043. str:Tron Strings
044. str:Quartet
045. str:Section/Qrt
046. str:Leg/Pizz Cmb
047. str:Legato/Pizz
048. str:RubbrStrngs
049. str:ProcessoTron
050. str:DramaQueen
051. str:FilmLayerz
052. str:WeirdStrngs
053. str:Digital
054. str:Neo Strings
055. str:Asia Layers
056. str:Solo Strings
057. str:Solo & Sect
058. str:Trio Solo
059. str:FluteTron
060. str:String Pad
061. str:UltraTron
062. cmb:String/Brs w
063. cmb:Brass/Tenor
064. cmb:Analog 1
065. cmb:Nylon/Str w
066. cmb:Analog 2
067. cmb:Fear Day
068. cmb:SoloStr & EP
069. cmb:Cool 5th
070. cmb:Strung Block
071. orc:SoloStr&Wind
072. orc:S.Sax&Winds
073. led:ManyASquare
074. brs:SforzandoSct
075. brs:TaDa!
076. brs:Trumpet
077. brs:Mute Trmpt
078. brs:Glide Bone
079. brs:Big Band
080. brs:Jazz Combo
081. brs:Brass Hits 1
082. brs:Brass Hits 2
083. brs:The Trumpet
084. brs:3 Bones
085. brs:2 Trumpets
086. brs:Trump&Bones1
087. brs:Trump&Bones2
088. brs:Matrix Horn
089. brs:Pseudo Brass
090. wnd:Tenor Sax
091. wnd:Oboe
092. wnd:Clarinet
093. wnd:FluteCake
094. wnd:BariSax
095. wnd:Squeel 1
096. wnd:Squeel 2
097. wnd:AltoSax
098. wnd:TenorSax
099. wnd:Synth Flute
100. wnd:Flute & Oboe
101. wnd:Saxophones
102. wnd:New Ager
103. wnd:Clarinuff
104. gtr:Singlecoil
105. gtr:Nylon
106. gtr:Electric Pwr
107. gtr:Solo Jazz
108. gtr:Trash
109. gtr:Thrash Lead
110. gtr:Surf 1 w
111. gtr:Surf 2 w
112. gtr:Chord Chuck
113. gtr:Mo'Mutes
114. gtr:Jazz Slide w
115. gtr:SlamitDown
116. gtr:Acoustic
117. gtr:Jazz
118. gtr:Nylon
119. gtr:Steel
120. gtr:Ghosted
121. gtr:Seduced
122. gtr:Cordal
123. gtr:Nylon&on
124. gtr:Hard Garage
125. gtr:Jazzy Comp
126. gtr:Enchantment
127. gtr:Nylonium
Presets - Bank 3
000. pad:Richness
001. pad:Your Fault
002. pad:PianoMeltz
003. pad:OutofTime
004. pad:Moon Flute
005. pad:OldSaws
006. pad:Evidence
007. pad:EvenMoEPIC!
008. pad:Under
009. pad:Life
010. pad:Phatt
011. pad:Keyngdom
012. pad:Dance Chord
013. pad:Brassage
014. pad:Crystal
015. pad:Elysium
016. pad:CloudBuster
017. pad:Star Seeker
018. pad:Trilogy
019. pad:Squirmy
020. pad:Paddy Cake
021. pad:Vector
022. pad:Velour
023. pad:Jarreing
024. pad:PWMpathy
025. arp:Azian
026. vox:Percolator
027. hit:HouseStrum
028. hit:Disco Stab
029. gtr:Mute Trails
030. gtr:Mute 5ths
031. syn:Re Entry
032. syn:Dance Split
033. syn:Pluck Pad
034. syn:Profit 500
035. syn:ClassicMoog
036. syn:Synth Bass
037. syn:Sync
038. syn:Saw Fifths
039. syn:VFX Stack
040. syn:Big Dance
041. syn:Riff Trip
042. syn:Brazz 5ths
043. syn:VS
044. syn:Goliath
045. syn:Xtra Large
046. syn:Major Saw
047. syn:Minor Saw
048. syn:JP Six
049. syn:Row Tate
050. syn:Rezelle
051. syn:SlowRide
052. syn:LFO Synth
053. syn:FrogLead
054. syn:Ubu II
055. syn:Serial Fly
056. syn:Matrix Pad
057. syn:CZone
058. syn:Benda
059. syn:Asian Dreams
060. syn:Big Comp
061. syn:Chipper
062. syn:RubberBands
063. syn:PeachyFuzz
064. sfx:Porch*Night
065. sfx:SFX 1
066. sfx:SFX 2
067. sfx:Scratches 1
068. sfx:Scratches 2
069. sfx:MCScratch
070. sfx:Space Wiggle
071. sfx:HeavySynth
072. sfx:Slicer
073. sfx:Cymbolater
074. sfx:Post Razz
075. sfx:Goblins
076. arp:Vectrek
077. sfx:8BitGameOver
078. nse:WinditDown
079. nse:SpaceDreams
080. arp:Synth Bass
081. arp:Syrup HP
082. arp:LowPercRoll
083. arp:MadEndingYo
084. arp:Plucked 5ths
085. led:DX Gone Mini
086. led:Lego
087. bpm:PWM Voxation
088. bpm:Classic
089. bpm:Drum 1
090. bpm:Drum 2
091. bpm:Drum 3
092. bpm:Octover
093. bpm:Chaser
094. gtr:Nyl ONDa
095. bas:Killer SE
096. bas:Fing'd
097. bas:Finger Oxx
098. bas:Hangem Mono
099. bas:Hiptainer
100. bas:Container
101. bas:Go Deep
102. bas:Drop Sub 2
103. bas:Drop Sub 3
104. bas:Low Rider
105. bas:PopSlidah
106. bas:Real Low
107. bas:Sub H2O
108. bas:Subber 1
109. bas:Subber 2
110. bas:Wheel Wide
111. bas:Pepper Bass
112. key:Simple EP
113. key:Tine EP 1
114. key:Tine EP 2
115. key:Tine EP 3
116. key:Pianostic
117. key:Spread Grand
118. key:Chorus Dyno
119. key:Piano & Pizz
120. key:Dramatic
121. key:Drama At Sea
122. key:Polarity
123. key:Piano Night
124. syn:Pliedes
125. syn:Sensitive
126. syn:SoftClipHarp
127. :default V1.0
Presets - Bank 4
000. jam:Grand Piano
001. jam:EP
002. jam:ClavFunk
003. jam:B There
004. jam:Reel Wurly
005. jam:Gtr & Choir
006. jam:Brass
007. jam:Grande
008. jam:PianoLayers
009. jam:Vibez
010. jam:Orchestral
011. jam:Pizzicato
012. jam:Solo Strings
013. jam:Piano+String
014. jam:Solo & Sctn
015. jam:FM JazzSplit
016. jam:Salsa Piano
017. jam:Roadz
018. key:Prime Piano
019. key:Synthetic
020. key:Concert
021. key:Concert Low
022. key:Concert Hi
023. key:Whirly
024. key:Film Piano
025. key:String Comp2
026. key:Mutant EP
027. key:Root EP
028. key:Easy Tine
029. key:Fat Piano
030. key:Wash Out
031. key:Becker Org
032. key:Dancer
033. key:Verocity
034. key:Axium
035. key:Pianessence
036. key:Rotondra
037. mix:Bass&Piano
038. mix:Stage Combo
039. mix:Bass&JazzGtr
040. mix:Bass & Pizz
041. mix:String Hit
042. mix:Split Vibes
043. mix:Fret+Clav
044. mix:PBass & B3
045. mix:F&M Split
046. mix:Nock Back
047. bas:Fatty
048. bas:Styrofoam
049. bas:Talk Bass
050. bas:Sluggo
051. bas:Perc DX
052. led:MellowPercLd
053. led:Bite Lead
054. led:Organish
055. led:Warm Pulse
056. led:Plastisyn
057. led:R&B Lead
058. led:Sin Brash
059. orc:Str+Winds
060. orc:So Spring
061. str:String Sing
062. str:Near East
063. str:Orchestra
064. str:PhaseStrings
065. str:String Synth
066. str:CatStrings
067. str:Sect+Trump
068. syn:Deluxxe
069. syn:Exlastic
070. syn:Synch Brass
071. syn:Koto&Strings
072. syn:The Praise
073. syn:IndianGarden
074. syn:Lament
075. syn:Piano Theme
076. pad:Wire Pad
077. pad:Film Strings
078. pad:Simplex
079. pad:BroadFilmPad
080. brs:Punch Brass
081. brs:Expando
082. brs:SoloTrumpet1
083. brs:SoloTrumpet2
084. brs:Trombone
085. vox:Vapor Vox
086. gtr:RazzMaJazz
087. gtr:Ozzz Lead
088. sfx:Quavering
089. sfx:Other Limits
090. sfx:Bellagio
091. arp:New Aging
092. arp:Fast Picker
093. arp:Eerie Choir
094. arp:TensionPizz
095. arp:Pluck Asian
096. arp:GtrHitDelay
097. arp:Dance Delay1
098. arp:Dance Delay2
099. arp:SynBassStabz
100. arp:KeepDaTime
101. arp:RideTheBell$
102. arp:RhodesGroove
103. arp:ElectroGroov
104. arp:KitSplicer
105. arp:BassCycler
106. arp:SnarezRoll 1
107. arp:SnarezRoll 2
108. arp:KickzRoll 1
109. arp:KickzRoll 2
110. kit:Wide Dance
111. kit:Balladeer
112. bts:Groover
113. bts:All Steely
114. bts:Jam Man
115. bts:Perc Jam
116. bts:Bass Patrol
117. bts:Old Combo
118. bts:FaithHealer
119. bts:StreetBeat
120. bts:Laid&Back
121. bts:Crazy Gtrs
122. bts:Sentimental
123. bts:Lounging
124. bts:AmbientMood
125. bts:Quick Beatz
126. bts:PlayItCool
127. bts:Statik One
Instruments
0000. :None
0001. pno:Stereo Grand
0002. pno:Grand Piano2
0003. pno:Techno Piano
0004. epo:Med Rhodes
0005. epo:Hard Rhodes
0006. epo:DynoRhodesMd
0007. epo:DynoRhodesHd
0008. epo:Hard Tine
0009. epo:WurlitzerSft
0010. epo:Wurlitzer Hd
0011. epo:FM El Piano
0012. epo:Tine EP
0013. epo:Pretty EP
0014. epo:Classic EP
0015. epo:FM EP 1
0016. epo:FM EP 2
0017. epo:Clavinet 1
0018. epo:Clavinet 2
0019. epo:EP Roll 1
0020. epo:EP Roll 2
0021. epo:EP Roll 3
0022. epo:EP Fog
0023. org:B3DistLowSlo
0024. org:B3 Dist Fast
0025. org:B3 Hi Slow
0026. org:B3 Hi Fast
0027. org:B3 Perc 3rd
0028. org:B3OrganWave1
0029. org:B3OrganWave2
0030. org:Gritty B Wav
0031. org:Farfisa 1
0032. org:Farfisa 2
0033. org:Farfisa 3
0034. org:Vox 1
0035. org:Vox 2
0036. org:Pipe Organ
0037. org:Drawbar
0038. org:Perc Organ
0039. org:Day
0040. org:Disco
0041. org:DX Organ
0042. org:JX Organ
0043. org:Tone Organ
0044. org:Simple Organ
0045. org:Org Lite
0046. org:Nod
0047. org:Full Organ
0048. org:Synth Organ
0049. org:Breathy
0050. org:Dance
0051. org:Synth Cheeze
0052. org:Oddd Organ
0053. sub:Bass Hum
0054. sub:Below Sub
0055. sub:Super Sub
0056. sub:SE Sub 1
0057. sub:SE Sub 2
0058. sub:SE Sub 3
0059. sub:SE Sub 4
0060. sub:SE Sub 5
0061. sub:SE Sub 6
0062. sub:SE Sub 7
0063. sub:Subtle Bass
0064. sub:Moog 1
0065. sub:Moog 2
0066. sub:Q Attack
0067. sub:Juno
0068. sub:Complex
0069. sub:Full Octave
0070. sub:Deep Pocket
0071. sub:JP4 Bass
0072. sub:Bass Hit
0073. bas:Acid
0074. bas:TB 1
0075. bas:TB 2
0076. bas:TB 3
0077. bas:TB 4
0078. bas:Saw Sync
0079. bas:Big Sync
0080. bas:Power Q
0081. bas:Buzzed
0082. bas:SE 1
0083. bas:SE 2
0084. bas:Basss ic
0085. bas:Stereo VP 1
0086. bas:VP1 2
0087. bas:FM
0088. bas:DB
0089. bas:Memory Moog
0090. bas:Moog Tri
0091. bas:Moog Basic
0092. bas:Mini 1
0093. bas:Mini 2
0094. bas:Mini 3
0095. bas:Mini 4
0096. bas:Micro Moog
0097. bas:Not So Mini
0098. bas:Sawz
0099. bas:Lowness
0100. bas:Ice
0101. bas:Analow
0102. bas:Fat Sunbass
0103. bas:Analogic
0104. bas:Q Bass 1
0105. bas:Q Bass 2
0106. bas:Q Bass 3
0107. bas:Planet Bass
0108. bas:2600
0109. bas:Synth 1
0110. bas:Synth 2
0111. bas:Synth 3
0112. bas:Synth 4
0113. bas:Synth 5
0114. bas:Synth 6
0115. bas:Synth 7
0116. bas:Synth 8
0117. bas:Synth 9
0118. bas:Synth 10
0119. bas:CZ101
0120. bas:PPG Hybrid
0121. bas:Ultimate 1
0122. bas:Ultimate 2
0123. bas:DB9 1
0124. bas:DB9 2
0125. bas:Phlappy
0126. bas:Pocket
0127. bas:Sonics
0128. bas:Perco
0129. bas:Spitt
0130. bas:Tapp
0131. bas:DX 1
0132. bas:DX 2
0133. bas:DX 3
0134. bas:Finger 1
0135. bas:Finger 2
0136. bas:Picked
0137. bas:Slap 1
0138. bas:Slap 2
0139. bas:Slap 3
0140. bas:Slap 4
0141. bas:Slap 5
0142. bas:Pop
0143. bas:Fretless 1
0144. bas:Fretless 2
0145. bas:Fretless 3
0146. bas:Fretless 4
0147. bas:Fretless 5
0148. bas:Fretless 6
0149. bas:EP 1
0150. bas:EP 2
0151. bas:EP 3
0152. bas:Home 1
0153. bas:Home 2
0154. bas:Street
0155. bas:Pure
0156. bas:Fing&Harms 1
0157. bas:Fing&Harms 2
0158. bas:All Purpose
0159. bas:Standard
0160. bas:Gruzzy Pop
0161. bas:Pop Slide 1
0162. bas:Pop Slide 2
0163. bas:Pop Slide 3
0164. bas:Pop Slide 4
0165. bas:Organ Bass 1
0166. bas:Organ Bass 2
0167. bas:Acoustic
0168. bas:Harmonics
0169. bas:Upright 1
0170. bas:Upright 2
0171. gtr:Nylon
0172. gtr:Steel
0173. gtr:Jazz
0174. gtr:Electric 1
0175. gtr:Electric 2
0176. gtr:El Mute 1
0177. gtr:El Mute 2
0178. gtr:Mutes
0179. gtr:ElectricDis
0180. gtr:Power 1
0181. gtr:Power 2
0182. gtr:Power Hit
0183. gtr:Synth Axe
0184. gtr:Gtr Hi Chuck
0185. gtr:Gtr Up Strk
0186. gtr:Gtr Scratch
0187. gtr:Muted String
0188. gtr:Klean Chuck
0189. gtr:Jangle
0190. gtr:Riff 1
0191. gtr:Riff 2
0192. gtr:Riff 3
0193. gtr:Funky Hit
0194. gtr:Another Hit
0195. gtr:Jazz Riff 1
0196. gtr:Jazz Riff 2
0197. gtr:Jazz Riff 3
0198. gtr:Slide Riff
0199. gtr:Pop Slide
0200. gtr:Pop
0201. gtr:Chord Chuck
0202. gtr:Slide
0203. gtr:Sad Guitar
0204. gtr:Wawa 1
0205. gtr:Wawa 2
0206. gtr:Wawa 3
0207. gtr:Wawa 4
0208. gtr:Wawa 5
0209. gtr:Wawa 6
0210. gtr:Heavy Hit
0211. gtr:Heavy Dive
0212. str:Solo Quartet
0213. str:Section
0214. str:Pizzicato
0215. str:Tron
0216. str:Analog
0217. str:Matrix Synth
0218. str:Digital
0219. str:Sham Wave
0220. str:Koto
0221. str:Sitar
0222. brs:Soft Trumpet
0223. brs:Hard Trumpet
0224. brs:MuteTrumpet1
0225. brs:MuteTrumpet2
0226. brs:Trombone
0227. brs:Tuba
0228. brs:Trumpet FX 1
0229. brs:Trumpet FX 2
0230. brs:Trumpet FX 3
0231. brs:Trumpet FX 4
0232. brs:Trumpet FX 5
0233. brs:Trumpet FX 6
0234. brs:Trumpet FX 7
0235. brs:Alt TptLoops
0236. brs:Ensemble
0237. brs:Section
0238. brs:Brass Hits 1
0239. brs:Brass Hits 2
0240. brs:ClassicBrass
0241. brs:Moog
0242. brs:Prophet 5
0243. brs:5th Wave
0244. wnd:Ocarina
0245. wnd:Pan Flute
0246. wnd:Flute
0247. wnd:Synth Flute
0248. wnd:Clarinet
0249. wnd:Oboe
0250. wnd:English Horn
0251. wnd:Soprano Sax
0252. wnd:Alto Sax
0253. wnd:Tenor Sax
0254. wnd:Sax Wave
0255. wnd:Bari Sax 1
0256. wnd:Bari Sax 2
0257. wnd:Sax Riff
0258. wnd:Sax FX 1
0259. wnd:Sax FX 2
0260. wnd:Sax FX 3
0261. wnd:Bottle Blow
0262. wnd:Shenai
0263. wnd:Harmonica
0264. vox:Pop Oohs
0265. vox:Pop Aahs
0266. vox:Soul Oohs
0267. vox:Breathy 1
0268. vox:Breathy 2
0269. vox:Very Breathy
0270. vox:VS Wave
0271. vox:Choir Wave
0272. vox:Jax Breath
0273. vox:Vox Synth
0274. vox:Orch Vox
0275. vox:CMI Breath
0276. vox:Tarzana
0277. vox:Gothic
0278. vox:Oow
0279. vox:Comon Vox
0280. vox:Odd Vox
0281. vox:Mmm Hmm
0282. vox:Ah Hah
0283. wav:PWM
0284. wav:Eraser
0285. wav:M12 Sync
0286. wav:Stereo Synth
0287. wav:FeedbackWave
0288. wav:MetalAttack
0289. wav:Arp 1
0290. wav:Arp 2
0291. wav:Arp 3
0292. wav:ARP Lead
0293. wav:Metal 1
0294. wav:Metal 2
0295. wav:Metal 3
0296. wav:PPG
0297. wav:VS Vox
0298. wav:VS37
0299. wav:VS48
0300. wav:Rezzy
0301. wav:Glass Perc
0302. wav:Moog Lead
0303. wav:Fretless
0304. wav:Magic
0305. wav:ES Rag
0306. wav:Chime
0307. wav:Pure H20
0308. wav:Log Hit
0309. wav:Pluck Tone
0310. wav:Hollow Deep
0311. wav:Bell Synth
0312. wav:Syn Tone
0313. wav:Perc Axe Syn
0314. wav:Whine
0315. wav:CZ101 Digi
0316. wav:CZ Lead
0317. wav:CZ Echo Lead
0318. wav:Wild Synth
0319. wav:Spacey Keys
0320. wav:Dig Buzz Syn
0321. wav:Rast Keys
0322. wav:Narrow Synth
0323. wav:Fat Attack
0324. wav:Synthetic
0325. wav:Overtone Syn
0326. wav:Buzz Saw Syn
0327. wav:Blipper
0328. wav:Full Synth
0329. wav:Bass Synth
0330. wav:Mini Lead
0331. wav:M12 Lead
0332. wav:Sync 1
0333. wav:Sync 2
0334. wav:Sync 3
0335. wav:Sync 4
0336. wav:Sync 5
0337. wav:Sync 6
0338. wav:Pop Square
0339. wav:Juno Square
0340. wav:SquareAttack
0341. wav:Square Lead
0342. wav:SquareChorus
0343. wav:Juno Pulse
0344. wav:Worm Lead 1
0345. wav:Worm Lead 2
0346. wav:Worm Lead 3
0347. wav:Worm Lead 4
0348. wav:Worm Lead 5
0349. wav:Worm Lead 6
0350. wav:Sinusoid
0351. wav:Sine Wave 2
0352. wav:Sine Squared
0353. wav:Sine Inv Sqr
0354. wav:Sine Cubed
0355. wav:SineInvCubed
0356. wav:Triangle
0357. wav:Square
0358. wav:Sawtooth 1
0359. wav:Sawtooth 2
0360. wav:Pulse Plus
0361. wav:Pulse 75%
0362. wav:Pulse 90%
0363. wav:Pulse 94%
0364. wav:Pulse 96%
0365. wav:Pulse 98%
0366. wav:FourOctaves
0367. wav:Low Odds
0368. wav:Low Evens
0369. syn:Saw Stack
0370. syn:Moog 55
0371. syn:Buzz Synth
0372. syn:Bender
0373. syn:Soft Synth
0374. syn:Hi String
0375. syn:OBX Saws
0376. syn:Big Planet
0377. syn:Saw Sweep
0378. wav:Juno Pulse
0379. syn:CZ Synstring
0380. syn:SynEnsemble
0381. syn:Rezzy Wave
0382. syn:Heavy
0383. syn:Rez Synth
0384. syn:Hi Oct Synth
0385. syn:Mood Strings
0386. syn:Brazz
0387. syn:Synth Brass
0388. syn:P5 Brass
0389. pad:JP6 Pad
0390. pad:Dreamy
0391. pad:Phat Pad
0392. pad:Synth Pad
0393. pad:Pad Life
0394. pad:Classic
0395. pad:Dream Pad
0396. pad:Paddy
0397. pad:Dance Chord
0398. pad:Zoom
0399. pad:Keyngdom
0400. pad:Under Pad FM
0401. pad:Xylo Pad
0402. hit:Organ Hits 1
0403. hit:Organ Hits 2
0404. hit:Basses
0405. hit:Synth Basses
0406. hit:Guitars
0407. hit:String Hits
0408. hit:Brass Hits 1
0409. hit:Brass Hits 2
0410. hit:Vox Hits 1
0411. hit:Vox Hits 2
0412. hit:Dance Hits 1
0413. hit:Dance Hits 2
0414. hit:Organ Hit 1
0415. hit:Organ Hit 2
0416. hit:Organ Hit 3
0417. hit:Organ Hit 4
0418. hit:Organ Hit 5
0419. hit:Organ Hit 6
0420. hit:Bass Stab 1
0421. hit:Bass Stab 2
0422. hit:Bass Slide
0423. hit:Orch C3
0424. hit:UnisonString
0425. hit:Unison Brass
0426. hit:Brass Hit 1
0427. hit:Brass Hit 2
0428. hit:Brass Hit 3
0429. hit:Brass Hit 4
0430. hit:Brass Hit 5
0431. hit:Brass Hit 6
0432. hit:Brass Hit 7
0433. hit:Brass Hit 8
0434. hit:Brass Hit 9
0435. hit:Brass Hit 10
0436. hit:Brass Hit 11
0437. hit:Brass Hit 12
0438. hit:Brass Hit 13
0439. hit:Brass Hit 14
0440. hit:Brass Hit 15
0441. hit:Brass Hit 16
0442. hit:Brass Hit 17
0443. hit:Brass Hit 18
0444. hit:Brass Hit 19
0445. hit:Brass Hit 20
0446. hit:Boink
0447. hit:Fat Low Syn
0448. hit:Hit On It
0449. hit:Jazz Short
0450. hit:Blamp Hit
0451. hit:Blipp
0452. hit:Buzz Blip
0453. hit:Game Hit
0454. hit:Diss Hit
0455. hit:Bell Hit
0456. hit:Klang Hit
0457. hit:Metal Hit
0458. hit:Slinky Q Hit
0459. hit:Space Whip
0460. hit:Short Quack
0461. hit:Quack Ahhh
0462. hit:Bowser Bark
0463. hit:Chiffin
0464. hit:Ripped
0465. hit:Drum Stab
0466. hit:Hip Hop Hit
0467. hit:Drum Stall
0468. hit:Dance Hit 1
0469. hit:Dance Hit 2
0470. hit:Dance Hit 3
0471. hit:Dance Hit 4
0472. hit:Dance Hit 5
0473. hit:Dance Hit 6
0474. hit:Dance Hit 7
0475. hit:Dance Hit 8
0476. hit:Dance Hit 9
0477. hit:Dance Hit 10
0478. hit:Dance Hit 11
0479. hit:Dance Hit 12
0480. hit:Dance Hit 13
0481. hit:Dance Hit 14
0482. hit:Dance Hit 15
0483. hit:Dance Hit 16
0484. hit:Dance Hit 17
0485. hit:Dance Hit 18
0486. hit:Dance Hit 19
0487. hit:Dance Hit 20
0488. hit:Dance Hit 21
0489. hit:Dance Hit 22
0490. hit:Dance Hit 23
0491. hit:Dance Hit 24
0492. hit:Dance Hit 25
0493. hit:Dance Hit 26
0494. hit:Dance Hit 27
0495. sfx:Q Snap
0496. sfx:Bass Scrape
0497. sfx:Bass Thud
0498. sfx:Gtr Scrape 1
0499. sfx:Gtr Scrape 2
0500. sfx:Guitar Pick
0501. sfx:GtrBodyKnock
0502. sfx:StringScrape
0503. sfx:Tpt Breath
0504. sfx:Alto Breath
0505. sfx:PnoSndBoard
0506. sfx:Loop 1
0507. sfx:Loop 2
0508. sfx:Loop 3
0509. sfx:Loop 4
0510. sfx:Loop 5
0511. sfx:Loop 6
0512. sfx:Loop 7
0513. sfx:Loop 8
0514. sfx:Crickets
0515. sfx:Crowd
0516. sfx:Music Crowd
0517. sfx:Lawn Mower
0518. sfx:Riff Trip
0519. sfx:Cyber Pan
0520. sfx:Groove Thing
0521. sfx:Science
0522. sfx:Sci Fi
0523. sfx:Synth Siren
0524. sfx:Space Wiggle
0525. sfx:Sqweal Rev
0526. nse:White 1
0527. nse:No Pitch
0528. nse:Pink 1
0529. nse:Pink 2
0530. nse:Spectrum 1
0531. nse:Spectrum 2
0532. nse:Spectrum 3
0533. nse:Spectrum 4
0534. nse:Air
0535. nse:High Pass
0536. nse:Excited HP
0537. nse:IP Wave
0538. nse:Metal Noise
0539. nse:Vinyl 1
0540. nse:Vinyl 2
0541. nse:Vinyl 3
0542. nse:Vinyl 4
0543. nse:Vinyl 1 NTF
0544. nse:Vinyl 2 NTF
0545. nse:Vinyl 3 NTF
0546. nse:Vinyl 4 NTF
0547. nse:CMI Hot Air
0548. nse:L9000 Noise
0549. scr:Scratches 1
0550. scr:Scratches 2
0551. scr:Vinyl Set
0552. scr:Stalled
0553. scr:Wind Down 1
0554. scr:Wind Down 2
0555. scr:Draggit
0556. scr:MC Scratch
0557. scr:Fun Scratch
0558. scr:SSSSystem 1
0559. scr:SSSSystem 2
0560. scr:Scratch Here
0561. scr:Scratch On I
0562. scr:Scratch Diss
0563. scr:Bow Wow
0564. scr:Diva Scratch
0565. scr:OrganBlipper
0566. scr:Classic Tape
0567. scr:Scratch Out!
0568. scr:Punch It
0569. scr:Ork Scratch
0570. scr:Tape Stop
0571. scr:Zip Scratch
0572. scr:Tape Pull
0573. scr:Wild Scratch
0574. scr:Up Scratch
0575. scr:Scratch Away
0576. scr:Frenzy
0577. scr:KickScratch1
0578. scr:KickScratch2
0579. scr:SnareScratch
0580. scr:Tite Scratch
0581. scr:Scratch Up
0582. scr:Barker
0583. scr:Plunger
0584. scr:Skipper
0585. scr:Fast Scratch
0586. prc:Soft Vibes
0587. prc:Hard Vibes
0588. prc:Xylophone
0589. prc:Marimba
0590. prc:Kalimba
0591. prc:Plexitone
0592. prc:Orchestral
0593. prc:Miscellany
0594. prc:FM Log Drum
0595. prc:SynDrum Wave
0596. prc:X-ite Tick
0597. prc:Kicks 1
0598. prc:Kicks 2
0599. prc:Snares 1
0600. prc:Snares 2
0601. prc:Toms 1
0602. prc:Toms 2
0603. prc:Timbales 1
0604. prc:Timbales 2
0605. prc:Congas etc 1
0606. prc:Congas etc 2
0607. prc:Hats 1
0608. prc:Hats 2
0609. prc:Cymbals 1
0610. prc:Cymbals 2
0611. prc:Shakers
0612. prc:Maracas
0613. prc:Bells 1
0614. prc:Bells 2
0615. prc:Blocks 1
0616. prc:Blocks 2
0617. prc:Tams 1
0618. prc:Tams 2
0619. prc:Claps 1
0620. prc:Claps 2
0621. prc:Snaps
0622. prc:Claves
0623. prc:Vibraslap
0624. prc:Guiro Roll
0625. prc:Cowbells
0626. prc:Agogos
0627. prc:Carillon
0628. prc:Misc Perc 1
0629. prc:Misc Perc 2
0630. kit:Acoustic 1&2
0631. kit:Acoustic 3&4
0632. kit:Dance Set
0633. kit:Dance Perc
0634. kit:Kit 1
0635. kit:Kit 2
0636. kit:Kit 3
0637. kit:Kit 4
0638. kit:Kit 5
0639. kit:Kit 6
0640. kit:Kit 7
0641. kit:Kit 8
0642. kit:Kit 9
0643. kit:Kit 10
0644. kit:Kit 11
0645. kit:Kit 12
0646. kit:Kit 13
0647. kit:Kit 14
0648. kit:Kit 15
0649. kit:Kit 16
0650. kit:GM Dance
0651. kit:Swing Hop
0652. kit:Swing Hop 2
0653. kit:Swing Hop 3
0654. prc:Kick 1
0655. prc:Kick 2
0656. prc:Kick 3
0657. prc:Kick 4
0658. prc:Kick 5
0659. prc:Kick 6
0660. prc:Kick 7
0661. prc:Kick 8
0662. prc:Kick 9
0663. prc:Kick 10
0664. prc:Kick 11
0665. prc:Kick 12
0666. prc:Kick 13
0667. prc:Kick 14
0668. prc:Kick 15
0669. prc:Kick 16
0670. prc:Kick 17
0671. prc:Kick 18
0672. prc:Kick 19
0673. prc:Kick 20
0674. prc:Kick 21
0675. prc:Kick 22
0676. prc:Kick 23
0677. prc:Kick 24
0678. prc:Kick 25
0679. prc:Kick 26
0680. prc:Kick 27
0681. prc:Kick 28
0682. prc:Kick 29
0683. prc:Kick 30
0684. prc:Kick 31
0685. prc:Kick 32
0686. prc:Kick 33
0687. prc:Kick 34
0688. prc:Kick 35
0689. prc:Kick 36
0690. prc:Kick 37
0691. prc:Kick 38
0692. prc:Kick 39
0693. prc:Kick 40
0694. prc:Kick 41
0695. prc:Kick 42
0696. prc:Kick 43
0697. prc:Kick 44
0698. prc:Kick 45
0699. prc:Kick 46
0700. prc:Kick 47
0701. prc:Kick 48
0702. prc:Kick 49
0703. prc:Kick 50
0704. prc:Kick 51
0705. prc:Kick 52
0706. prc:Kick 53
0707. prc:Kick 54
0708. prc:Kick 55
0709. prc:Kick 56
0710. prc:Kick 57
0711. prc:Kick 58
0712. prc:Kick 59
0713. prc:Kick 60
0714. prc:Kick 61
0715. prc:Kick 62
0716. prc:Kick 63
0717. prc:Kick 64
0718. prc:Kick 65
0719. prc:Kick 66
0720. prc:Kick 67
0721. prc:Kick 68
0722. prc:Kick 69
0723. prc:Kick 70
0724. prc:Kick 71
0725. prc:Snare 1
0726. prc:Snare 2
0727. prc:Snare 3
0728. prc:Snare 4
0729. prc:Snare 5
0730. prc:Snare 6
0731. prc:Snare 7
0732. prc:Snare 8
0733. prc:Snare 9
0734. prc:Snare 10
0735. prc:Snare 11
0736. prc:Snare 12
0737. prc:Snare 13
0738. prc:Snare 14
0739. prc:Snare 15
0740. prc:Snare 16
0741. prc:Snare 17
0742. prc:Snare 18
0743. prc:Snare 19
0744. prc:Snare 20
0745. prc:Snare 21
0746. prc:Snare 22
0747. prc:Snare 23
0748. prc:Snare 24
0749. prc:Snare 25
0750. prc:Snare 26
0751. prc:Snare 27
0752. prc:Snare 28
0753. prc:Snare 29
0754. prc:Snare 30
0755. prc:Snare 31
0756. prc:Snare 32
0757. prc:Snare 33
0758. prc:Snare 34
0759. prc:Snare 35
0760. prc:Snare 36
0761. prc:Snare 37
0762. prc:Snare 38
0763. prc:Snare 39
0764. prc:Snare 40
0765. prc:Snare 41
0766. prc:Snare 42
0767. prc:Snare 43
0768. prc:Snare 44
0769. prc:Snare 45
0770. prc:Snare 46
0771. prc:Snare 47
0772. prc:Snare 48
0773. prc:Snare 49
0774. prc:Snare 50
0775. prc:Snare 51
0776. prc:Snare 52
0777. prc:Snare 53
0778. prc:Snare 54
0779. prc:Snare 55
0780. prc:Snare 56
0781. prc:Snare 57
0782. prc:Snare 58
0783. prc:Snare 59
0784. prc:Snare 60
0785. prc:Snare 61
0786. prc:Snare 62
0787. prc:Snare 63
0788. prc:Snare 64
0789. prc:Snare 65
0790. prc:Snare 66
0791. prc:Snare 67
0792. prc:Snare 68
0793. prc:Snare 69
0794. prc:Snare 70
0795. prc:Snare 71
0796. prc:Snare 72
0797. prc:Snare 73
0798. prc:Snare 74
0799. prc:Snare 75
0800. prc:Snare 76
0801. prc:Snare 77
0802. prc:Snare 78
0803. prc:Snare 79
0804. prc:Snare 80
0805. prc:Snare 81
0806. prc:Snare 82
0807. prc:Snare 83
0808. prc:Snare 84
0809. prc:Snare 85
0810. prc:Snare 86
0811. prc:Snare 87
0812. prc:Snare 88
0813. prc:Snare 89
0814. prc:Snare 90
0815. prc:Snare 91
0816. prc:Snare 92
0817. prc:Snare 93
0818. prc:Snare 94
0819. prc:Snare 95
0820. prc:Snare 96
0821. prc:Snare 97
0822. prc:Snare 98
0823. prc:Snare 99
0824. prc:Snare 100
0825. prc:Snare 101
0826. prc:Snare 102
0827. prc:Snare 103
0828. prc:Snare 104
0829. prc:Snare 105
0830. prc:Snare 106
0831. prc:Snare 107
0832. prc:Snare 108
0833. prc:Snare 109
0834. prc:Snare 110
0835. prc:Snare 111
0836. prc:Snare 112
0837. prc:Snare 113
0838. prc:Snare 114
0839. prc:Snare 115
0840. prc:Snare 116
0841. prc:Snare 117
0842. prc:Snare 118
0843. prc:Snare 119
0844. prc:Snare 120
0845. prc:Snare 121
0846. prc:Snare 122
0847. prc:Snare 123
0848. prc:Snare 124
0849. prc:Snare 125
0850. prc:Snare 126
0851. prc:Snare 127
0852. prc:Snare 128
0853. prc:Snare 129
0854. prc:Snare 130
0855. prc:Snare 131
0856. prc:Timbale 1
0857. prc:Timbale 2
0858. prc:Timbale 3
0859. prc:Timbale 4
0860. prc:Timbale 5
0861. prc:Timbale 6
0862. prc:Tom 1
0863. prc:Tom 2
0864. prc:Tom 3
0865. prc:Tom 4
0866. prc:Tom 5
0867. prc:Tom 6
0868. prc:Tom 7
0869. prc:Tom 8
0870. prc:Tom 9
0871. prc:Tom 10
0872. prc:Tom 11
0873. prc:Tom 12
0874. prc:Tom 13
0875. prc:Tom 14
0876. prc:Tom 15
0877. prc:Tom 16
0878. prc:Tom 17
0879. prc:Tom 18
0880. prc:Tom 19
0881. prc:Tom 20
0882. prc:Tom 21
0883. prc:Tom 22
0884. prc:Tom 23
0885. prc:Tom 24
0886. prc:Tom 25
0887. prc:Tom 26
0888. prc:Tom 27
0889. prc:Tom 28
0890. prc:Tom 29
0891. prc:Tom 30
0892. prc:Tom 31
0893. prc:Conga 1
0894. prc:Conga 2
0895. prc:Conga 3
0896. prc:Conga 4
0897. prc:Conga 5
0898. prc:Conga 6
0899. prc:Conga 7
0900. prc:Conga 8
0901. prc:Conga 9
0902. prc:Conga 10
0903. prc:Conga 11
0904. prc:Conga 12
0905. prc:Conga 13
0906. prc:Conga 14
0907. prc:Conga 15
0908. prc:Conga 16
0909. prc:Conga 17
0910. prc:Conga 18
0911. prc:Conga 19
0912. prc:Conga 20
0913. prc:Conga 21
0914. prc:Hat 1
0915. prc:Hat 2
0916. prc:Hat 3
0917. prc:Hat 4
0918. prc:Hat 5
0919. prc:Hat 6
0920. prc:Hat 7
0921. prc:Hat 8
0922. prc:Hat 9
0923. prc:Hat 10
0924. prc:Hat 11
0925. prc:Hat 12
0926. prc:Hat 13
0927. prc:Hat 14
0928. prc:Hat 15
0929. prc:Hat 16
0930. prc:Hat 17
0931. prc:Hat 18
0932. prc:Hat 19
0933. prc:Hat 20
0934. prc:Hat 21
0935. prc:Hat 22
0936. prc:Hat 23
0937. prc:Hat 24
0938. prc:Hat 25
0939. prc:Hat 26
0940. prc:Hat 27
0941. prc:Hat 28
0942. prc:Hat 29
0943. prc:Hat 30
0944. prc:Hat 31
0945. prc:Hat 32
0946. prc:Hat 33
0947. prc:Hat 34
0948. prc:Hat 35
0949. prc:Hat 36
0950. prc:Hat 37
0951. prc:Hat 38
0952. prc:Hat 39
0953. prc:Hat 40
0954. prc:Hat 41
0955. prc:Hat 42
0956. prc:Hat 43
0957. prc:Hat 44
0958. prc:Hat 45
0959. prc:Hat 46
0960. prc:Hat 47
0961. prc:Hat 48
0962. prc:Hat 49
0963. prc:Hat 50
0964. prc:Hat 51
0965. prc:Hat 52
0966. prc:Hat 53
0967. prc:Hat 54
0968. prc:Hat 55
0969. prc:Hat 56
0970. prc:Hat 57
0971. prc:Hat 58
0972. prc:Hat 59
0973. prc:Hat 60
0974. prc:Hat 61
0975. prc:Hat 62
0976. prc:Hat 63
0977. prc:Hat 64
0978. prc:Hat 65
0979. prc:Hat 66
0980. prc:Hat 67
0981. prc:Hat 68
0982. prc:Hat 69
0983. prc:Hat 70
0984. prc:Hat 71
0985. prc:Hat 72
0986. prc:Hat 73
0987. prc:Hat 74
0988. prc:Hat 75
0989. prc:Hat 76
0990. prc:Hat 77
0991. prc:Hat 78
0992. prc:Hat 79
0993. prc:Hat 80
0994. prc:Hat 81
0995. prc:Hat 82
0996. prc:Hat 83
0997. prc:Hat 84
0998. prc:Hat 85
0999. prc:Hat 86
1000. prc:Hat 87
1001. prc:Hat 88
1002. prc:Hat 89
1003. prc:Hat 90
1004. prc:Hat 91
1005. prc:Hat 92
1006. prc:Hat 93
1007. prc:Hat 94
1008. prc:Hat 95
1009. prc:Cymbal 1
1010. prc:Cymbal 2
1011. prc:Cymbal 3
1012. prc:Cymbal 4
1013. prc:Cymbal 5
1014. prc:Cymbal 6
1015. prc:Cymbal 7
1016. prc:Cymbal 8
1017. prc:Cymbal 9
1018. prc:Cymbal 10
1019. prc:Cymbal 11
1020. prc:Cymbal 12
1021. prc:Cymbal 13
1022. prc:Cymbal 14
1023. prc:Cymbal 15
1024. prc:Cymbal 16
1025. prc:Cymbal 17
1026. prc:Cymbal 19
1027. prc:Cymbal 20
1028. prc:Cymbal 21
1029. prc:Cymbal 22
1030. prc:Cymbal 23
1031. prc:Cymbal 24
1032. prc:Cymbal 25
1033. prc:Cymbal 26
1034. prc:Cymbal 27
1035. prc:Cymbal 28
1036. prc:Cymbal 29
1037. prc:Shaker 1
1038. prc:Shaker 2
1039. prc:Shaker 3
1040. prc:Shaker 4
1041. prc:Shaker 5
1042. prc:Shaker 6
1043. prc:Shaker 7
1044. prc:Shaker 8
1045. prc:Shaker 9
1046. prc:Shaker 10
1047. prc:Shaker 11
1048. prc:Shaker 12
1049. prc:Shaker 13
1050. prc:Shaker 14
1051. prc:Shaker 15
1052. prc:Shaker 16
1053. prc:Shaker 17
1054. prc:Shaker 18
1055. prc:Shaker 19
1056. prc:Shaker 20
1057. prc:Shaker 21
1058. prc:Shaker 22
1059. prc:Shaker 23
1060. prc:Shaker 24
1061. prc:Shaker 25
1062. prc:Shaker 26
1063. prc:Shaker 27
1064. prc:Shaker 28
1065. prc:Flexitone
1066. prc:Bell 1
1067. prc:Bell 2
1068. prc:Bell 3
1069. prc:Bell 4
1070. prc:Bell 5
1071. prc:Bell 6
1072. prc:Bell 7
1073. prc:Bell 8
1074. prc:Bell 9
1075. prc:Bell 10
1076. prc:Bell 11
1077. prc:Bell Tree
1078. prc:Bell 12
1079. prc:Bell 13
1080. prc:Bell 14
1081. prc:Bell 15
1082. prc:Bell 16
1083. prc:Bell 17
1084. prc:Bell 18
1085. prc:Bell 19
1086. prc:Bell 20
1087. prc:Bell 21
1088. prc:Bell 22
1089. prc:Bell 23
1090. prc:Bell 24
1091. prc:Bell 25
1092. prc:Bell 26
1093. prc:Bell 27
1094. prc:Bell 28
1095. prc:Block 1
1096. prc:Block 2
1097. prc:Block 3
1098. prc:Block 4
1099. prc:Block 5
1100. prc:Block 6
1101. prc:Block 7
1102. prc:Block 8
1103. prc:Block 9
1104. prc:Block 10
1105. prc:Block 11
1106. prc:Block 12
1107. prc:Block 13
1108. prc:Block 14
1109. prc:Tam 1
1110. prc:Tam 2
1111. prc:Tam 3
1112. prc:Tam 4
1113. prc:Tam 5
1114. prc:Tam 6
1115. prc:Tam 7
1116. prc:Tam 8
1117. prc:Tam 9
1118. prc:Clap 1
1119. prc:Clap 2
1120. prc:Clap 3
1121. prc:Clap 4
1122. prc:Clap 5
1123. prc:Clap 6
1124. prc:Clap 7
1125. prc:Clap 8
1126. prc:Clap 9
1127. prc:Clap 10
1128. prc:Clap 11
1129. prc:Clap 12
1130. prc:Clap 13
1131. prc:Clap 14
1132. prc:Clap 15
1133. prc:Clap 16
1134. prc:Clap 17
1135. prc:Clap 18
1136. prc:Snap 1
1137. prc:Snap 2
1138. prc:Snap 3
1139. prc:Snap 4
1140. prc:Snap 5
1141. prc:Snap 6
1142. prc:Misc 1
1143. prc:Misc 2
1144. prc:Misc 3
1145. prc:Misc 4
1146. prc:Misc 5
1147. prc:Misc 6
1148. prc:Misc 7
1149. prc:Misc 8
1150. prc:Misc 9
1151. prc:Misc 10
1152. prc:Misc 11
1153. prc:Misc 12
1154. prc:Misc 13
1155. prc:Misc 14
1156. prc:Misc 15
1157. prc:Misc 16
1158. prc:Misc 17
1159. prc:Misc 18
1160. prc:Misc 19
1161. prc:Misc 20
1162. prc:Misc 21
1163. prc:Misc 22
1164. prc:Misc 23
1165. prc:Misc 24
1166. prc:Misc 25
1167. prc:Misc 26
1168. prc:Misc 27
1169. prc:Misc 28
1170. prc:Misc 29
1171. prc:Misc 30
1172. prc:Misc 31
1173. prc:Misc 32