E-MU Producer Series Vol. 5
3D Audio Collection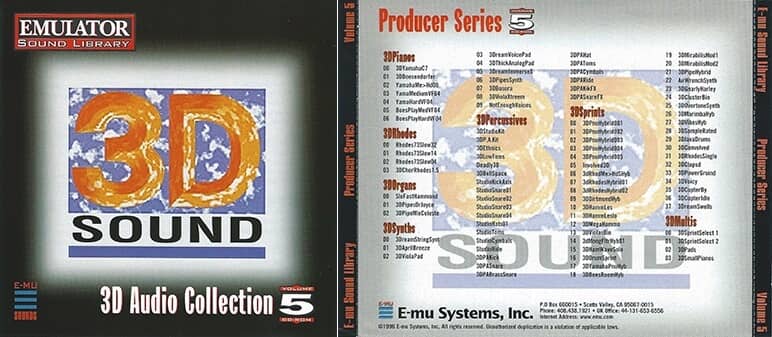 This sample CD library has been designed to allow quick access to a large number of banks that can be customized in real time. Each instrument is set up to take advantage of the power of the synthesis engine used in the Emulator product family.
The disc format includes 3D Keyboard Folders, 3D Percussion Folder, 3D Sound Effects Folder, 3D SoundSprint Folder, and a 3D Multis Folder. Each 3D Folder is mapped to Real Time Controllers 21, 22, 23, & 24. The Thumby button is mapped to controller 66. These controllers give expressive control to the user.
3D Keyboard Folders
3D Pianos Folder, 3D Rhodes Folder, 3D Organ Folder, and 3D Synths Folder. Incredible realism using proprietary three dimensional recording techniques.
3D Percussion Folder
Studio kit with 3D kicks, snares, toms, and cymbals. Also includes Java drums, shakers, claps, and many percussive effects.
3D Sound Effects Folder
The SFX Folder includes a pallet of 3D sound effects assigned to controllers for maximum control in real time.
3D SoundSprint Folder
SoundSprint allows sounds on any hard disk or CD-ROM to become instantly accessed when selected. SoundSprints are normally one half megabyte or less and can be assigned to QuickKeys.
Compatible with E4 Ultras and other EOS samplers.
01. 3DYamahaC7
02. 3DBoesendorfer
03. YamahaMe>Hd08
04. YamaMediumVF04
05. YamaHardVF04
06. BoesPIMe>Hd08
07. BoesPlayMed VF04
08. BoesPlayHardVF04
09. Rhodes73Slow32
10. Rhodes73Slow14
11. Rhodes73Slow04
12. 3DChorRhodes1.5
13. SloFastHammond
14. 3DPipesDrJoyce
15. 3DPipeMixCeleste
16. 3DreamStringSynt
17. 3DAprilBreeze
18. 3DViolaPad
19. 3DreamVoicePad
20. 3DThickAnalogPad
21. 3DreamImmerseX
22. 3DPipesSynth
23. 3DBosora
24. 3DViolaXtreem
25. NotEnoughVoices
26. 3DStudioKit
27. 3DP.A
28. 3DEthnics
29. 3DLOWToms
30. Deadly3D
31. 3DBellSpace
32. Studio Kick Axis

33. Studio Snare 01
34. Studio Snare 02
35. Studio Snare 03
36. Studio Snare 04
37. Studio Hats 01
38. Studio Toms
39. Studio Cymbals
40. Studio Ride
41. 3DPAKick
42. 3DPASnare
43. 3DPABrassSnare
44. 3DPAHat
45. 3DPAToms
46. 3DPACymbals
47. 3DPARide
48. 3DPAKikFX
49. 3DPASnareFX
50. HellTrees
51. Easter Island
52. Solar Flares
53. PipeClusters
54. 3DPnoHybrid 001
55. 3DPnoHybrid 002
56. 3DPnoHybrid 003
57. 3DPnoHybrid 004
58. 3DPnoHybrid 005
59. Involved3D
60. 3dRhodMe>HdSHyb
61. 3dRhodesHybrid01
62. 3dRhodesHybrid02
63. 3DDirtmondHyb
64. 3DHammLes

65. 3DHammLeslo
66. 3DMegaHammo
67. 3DViolasBin
68. 3dMoogFltrHyb01
69. 3DHamWavesolo
70. 3DDrumSprint
71. 3DYamahaPianoHyb
72. 3DBoesRoomHyb
73. 3DMirabilisMod1
74. 3DMirabilisMod2
75. 3dPipeHybrid
76. AirWrenchSynth
77. 3dGnarlyHarley
78. 3DClusterBin
79. 3DOvertoneSynth
80. 3DMarimbaHyb
81. 3DVibesHyb
82. 3DSampleRated
83. 3DJavaDrums
84. 3DConvolved
85. 3DRhodesSingle
86. 3DClapsd
87. 3DPowerGroind
88. 3DVoicy
89. 3DCopterBy
90. 3DCopterIdle
91. 3DreamSwells
92. 3DSprintSelect 1
93. 3DSprintSelect 2
94. 3DPads
95. 3DSmallPianos