E-MU Producer Series Vol. 1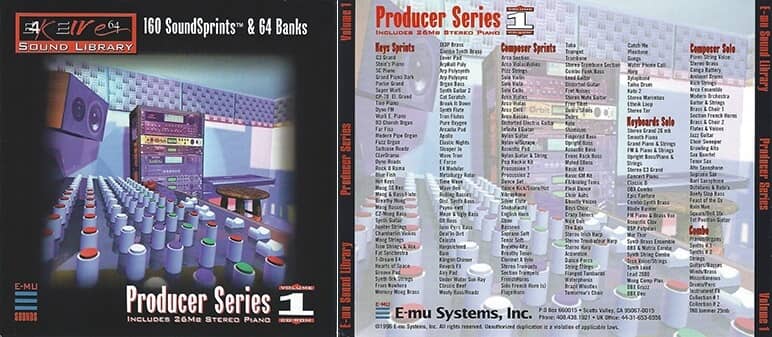 This sample CD offers you a variety of instruments designed to allow quick access to a large number of banks that can be customized in real time. Each instrument is set up to take advantage of the power of the synthesis engine used in the E4 product family.
This collection includes Sound Sprints, Solo Instruments, and Combo Banks designed for instant musical composition.
This was the begining of the NEW E4 CD Rom Library. The Producer Series contains SoundSprint Folders with 75 Key Sprints/75 Composer Sprints. Each SoundSprint is mapped to Real Time Controllers 21, 22, 23 & 24. The Thumby button is mapped to controller 66.
It also contains Solo Folders with 28 banks one half meg. in size or greater (PLUS A 26 MEGABYTE PIANO). Each bank is treated as one preset and is also mapped to the above controllers.
There is also a Combo Folder with SoundSprints assembled together for multitimbral operation.
Compatible with E4 Ultras and other EOS samplers.
01. C3 Grand
02. Stein's Grand
03. SC Piano
04. Grand Piano Dark
05. Parlor Grand
06. Super Wurli
07. CP-70 El.Grand
08. Tine Piano
09. Dyno FM
10. Wurli E.Piano
11. B3 Church Organ
12. Far Fisa
13. ModernPipeOrgan
14. Fuzz Organ
15. Suitcase Roadz
16. ClavOrama
17. Dyno Roads
18. Rock O Rama
19. Blue Fish
20. Hot Keys
21. Moog 55 Rez
22. Moog&Bass/Flute
23. Breathy Moog
24. Moog Basses
25. CZ-Moog Bass
26. Synth Guitar
27. Jupiter Strings
28. ChamberlnViolins
29. Moog Strings
30. Tron Strngs&Vox
31. Fat Synchestra
32. T-Dream E4
33. Hearts Of Space
34. Groove Pad
35. Synth Ork Strngs
36. From Nowhere
37. MemoryMoog Brass
38. JX3P Brass
39. ComboSynthBrass
40. Lover Pad
41. ArpRoll Poly
42. ARP Polysynth
43. ARP Polysync
44. Organ Bass
45. Synth Guitar 2
46. Cat Scratch
47. Break It Down
48. Synth Flute
49. Tron Flutes
50. Pure Oxygen
51. Arcadia Pad
52. Apollo
53. Elastic Nights
54. Slooper Jo
55. Wave Tron
56. E Force
57. E4 Modular
58. Metallurgy Rotor
59. Time Wave
60. Wave Bell
61. Rolling Basses
62. Dist.Synth Bass
63. Psyno-nett
64. Mean & Ugly Bass
65. DX Bass
66. Juno Perc Bass
67. Dealin' Dirt
68. Celeste
69. Harpsichord
70. Bam
71. Klingon Chimer
72. Reverb FX
73. Airy Pad
74. UnderWaterSunRay
75. Classic Beef
76. MeatyBass/Roadz

77. Arco Section
78. ArcoViolasViolns
79. Pizz Strings
80. Solo Violin
81. Solo Viola
82. Solo Cello
83. Arco Violins
84. Arco Violas
85. Arco Celli
86. Arco Basses
87. Dist ElGuitar
88. Infinite EGuitar
89. Nylon Guitar
90. Nylon w/Scrape
91. Acoustic Pad
92. N.Guitar&String
93. Poprockin Kit
94. Procussion 1
95. Procussion 2
96. Dance Set
97. DanceKickSnreHat
98. Vibraphone
99. Silver Flute
100. Shakuhachi
101. English Horn
102. Oboe
103. Bassoon
104. Soprano Soft
105. Tenor Soft
106. Breathy Alto
107. Breathy Tenor
108. Clarinet A Velo
109. Stereo Trumpets
110. Section Trumpets
111. French Horns
112. SoloFrenchHrn(s)
113. Flugelhorn
114. Tuba
115. Trumpet
116. Trombone
117. Str TromboneSect
118. Combo Funk Bass
119. Lead Guitar
120. Distorted Guitar
121. Fret Noises
122. Stereo MuteGtr
123. Free Tibet
124. Dobro Slides
125. Dobro
126. Koto
127. Shamisen
128. Fingered Bass
129. Upright Bass
130. Acoustic Bass
131. Evans Rock Bass
132. Muted EBass
133. Basic Kit
134. Basic GM Kit
135. FX/Analog Toms
136. Plexi Dance
137. Choir Aahs
138. Ghostly Voices
139. Boys Choir
140. Crazy Tenors
141. Nice Ooh
142. The Gals
143. Stereo IrishHarp
144. StTroubadourHarp
145. Stereo Harp
146. Accordion
147. Dance Percs
148. String Things
149. Flanged Tamburas
150. Waterphonia
151. Brazil Whistles
152. Tomorrow's Choir

153. Catch Me
154. Plexitone
155. Gongs
156. Water Phone Call
157. Harp
158. Xylophone
159. Taiko Drum
160. Koto 2
161. Stereo Marimbas
162. Ethnik Loop
163. Stereo Tar
164. StereoGrand 26mb
165. Smooth Piano
166. GrandPiano&Str's
167. FM&Piano&Str's
168. UprtBass/Pno&Str
169. Stereo C3 Grand
170. Concert Piano
171. Classic B
172. OBX Combo
173. EpicFanfare
174. Combo SynthBrass
175. Blade Runner
176. FMPiano&BrassVox
177. Acoustic Clav
178. DSP Potpourri
179. Mor Thor
180. Synth Brass Ens
181. OBX&Matrix Combo
182. SynthStringCombo
183. Tron Voice/Strgs
184. Synth Lead
185. Lead 2000
186. Moog Comp Plus
187. OBX Gruzz
188. OBX Uno
189. PianoStringVoice
190. Stereo Brass
191. Conga Battery
192. Ambient Drums
193. Rich Strings
194. Arco Ensemble
195. Modern Orchestra
196. Guitar & Strings
197. Brass & Choir 1
198. Sec French Horns
199. Brass & Choir 2
200. Flutes & Voices
201. Jazz Guitar
202. Choir Sweeper
203. Growling Alto
204. Sax Quartet
205. Tenor Sax
206. Alto Saxophone
207. Soprano Sax
208. Bari Saxophone
209. Octobans&Roto's
210. Beefy Slap Bass
211. Feast of the Ox
212. Rain Man
213. Square/BellSfx
214. 1st Position Gtr
215. Pianos/Organs
216. Synths #1
217. Synths #2
218. Strings
219. Guitars/Basses
220. Winds/Brass
221. Miscellaneous
222. Drums/Perc
223. Instrument FX
224. Collection #1
225. Collection #2
226. TKO Jammer 25mb