E-MU Orchestral Sessions Vol. 1 Sound ROM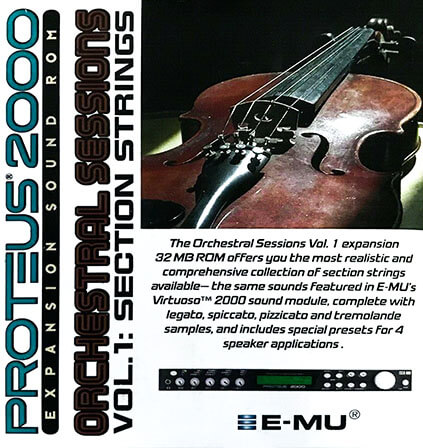 The Orchestral Sessions Vol. 1 expansion 32MB ROM offers you the most realistic and comprehensive collection of section strings available – the same sounds featured in E-MU's Virtuoso 2000 sound module, complete with legato, spiccato, pizzicato and tremolande samples, and includes special presets for 4 speaker applications.
Additional samples were recorded from the audience seats, allowing you to blend more or less natural hall sound into your presets. E-MU's sound designers then crafted these samples into more than just a collection of orchestral sounds – they built a true virtual orchestra that is second to none in realism and consistency across all of its instrument sections. Combined with its companion ROM, Orchestral Sessions Vol. 2 (Woodwinds, Brass, Percussion and Solo Strings), E-MU puts a complete professional orchestra at your fingertips.
SIMM Code Number: 08
Label: ORCHESTRAL VOLUME 1
LCD Display Name: ORCH1
Banks: 3 Banks
Instrument: Virtuoso 2000
Synfonietta
Cartoon
Spring
Preset & Instrument Listing
Presets - Bank 0
000. vln:16 Leg Str
001. vln:16 Leg Mono1
002. vln:16 Leg Mono2
003. vln:16 Leg HiPas
004. vln:16 Xpression
005. vln:16 Xprssn *
006. vln:16 Leg Oct 1
007. vln:16 Leg Oct 2
008. vln:FullViolins1
009. vln:16 Trems Str
010. vln:16 Trems Mno
011. vln:16 Leg&Trems
012. vln:16 Lg&TrmMno
013. vln:Stereo Pizz
014. vln:16 Pizz Mno
015. vln:16 Pizz Long
016. vln:16 Leg/Pzz w
017. vln:16 Pizz/Trem
018. vln:16 Pizz Plus
019. vln:16 Leg/Spicv
020. vln:16 Dark
021. vln:16 Sim Bow
022. vln:16 Sleepy
023. vln:5 Leg Str
024. vln:5 Leg Mno
025. vln:5 Xpression
026. vln:5 Leg Octave
027. vln:FullViolins2
028. vln:5 Trems Str
029. vln:5 Trems Mno
030. vln:5 Leg Str
031. vln:5 Pizz Mno
032. vln:5 Leg/Pizz w
033. vln:5 Pizz/Trems
034. vln:5 Spiccato
035. vln:5 Leg/Spic v
036. vln:5 Pizz/Spicv
037. vln:5 Leg/Spic w
038. vln:5 Dark
039. vln:5 Sleepy
040. vln:5 Lg Studio
041. vln:5 LgStdXprsn
042. vln:5 LgStd Oct
043. vln:FullViolins3
044. vln:5 SpicStudio
045. vln:5 Lg/SpcStdv
046. vln:5 Lg/SpcStdw
047. vln:5 Std Slow
048. vla:15 Leg Str
049. vla:15 Leg Mono
050. vla:15 Legato *
051. vla:15 Leg Oct
052. vla:FullViolas 1
053. vla:15 Leg/Trems
054. vla:15 Pizz
055. vla:15 Leg/Pzz w
056. vla:10 Dreams
057. vla:5 Leg Str
058. vla:5 Leg Mno
059. vla:5 Xpression
060. vla:5 Leg Oct
061. vla:FullViolas 2
062. vla:5 Trems Str
063. vla:5 Trems Mno
064. vla:5 Leg&Trems
065. vla:5 Pizzicato
066. vla:5 Leg/Pizz w
067. vla:5 Spiccato
068. vla:5 Leg/Spic v
069. vla:5 Lg Studio
070. vla:5 Std Xprsn
071. vla:5 Lg Std Oct
072. vla:FullViolas 3
073. vla:5 Std Spic
074. vla:5 StdLg/Spcv
075. cel:10 Leg Str
076. cel:10 Leg Mno
077. cel:10 Legato *
078. cel:10 Xpression
079. cel:10 Leg Oct
080. cel:10 Trems Str
081. cel:10 Trems Mno
082. cel:10 Leg/Trems
083. cel:10 Deepness
084. cel:10 Pizzicato
085. cel:10 Leg/Pzz w
086. cel:10 Spiccato
087. cel:10 Lg/Spic v
088. cel:5 Leg Str
089. cel:5 Leg Mno
090. cel:5 Xpression
091. cel:5 Leg Oct
092. cel:5 Leg/Trems
093. cel:5 Pizzicato
094. cel:5 Leg/Pizz w
095. cel:5 Spiccato
096. cel:5 Leg/Spic v
097. cel:5 Lg Studio
098. cel:5 Std Xprsn
099. cel:5 Std Spic 1
100. cel:5 Std Spic 2
101. bas:6 Leg Str
102. bas:6 Xpression
103. bas:6 Legato *
104. bas:3 Legato
105. bas:6&3 Leg/Spic
106. bas:6&3 Leg Oct
107. bas:4 Trems
108. bas:6Leg&4Trems
109. bas:3Leg&4Trems
110. bas:3 Spiccato
111. bas:3 Leg/Spic v
112. bas:3 Pizzicato
113. bas:3 Leg/Pizz w
114. bas:3 Lg Studio
115. bas:3 Std Xprssn
116. bas:Full House
117. bas:Full Depth
118. cmb:Bss&CelliTrm
119. str:SynthString1
120. str:SynthString2
121. str:SynthString3
122. str:SynthString4
123. str:SynthString5
124. str:SynthString6
125. str:SynthString7
126. str:SynthString8
127. str:SlackLgStdSt
Presets - Bank 1
000. str:Virtuoso
001. orc:Symphony
002. orc:Orchestra
003. orc:Ensemble
004. wnd:Woodwinds
005. brs:Brass
006. prc:Batterie
007. hrp:Harp
008. str:Mass Strings
009. str:Hall Pizz
010. str:HallSpiccato
011. str:Chamber
012. cmb:Bell Strings
013. cmb:String&Woods
014. cmb:String&Brass
015. cmb:Brass&Woods
016. orc:Unison Orch
017. wnd:Soft Winds
018. wnd:HallWindSect
019. wnd:Flute Beauty
020. wnd:Bassoon Hall
021. brs:Big Brass
022. cmb:SoloBone&Wnd
023. brs:Trumpet
024. str:Quartet
025. prc:Bells
026. str:Leg/Spicv
027. str:Studio Leg
028. str:StudioXprssn
029. str:Hall Pizz 2
030. str:Studio Spic
031. str:Combo Spic
032. str:Hall Trems
033. str:Chamber 2
034. str:Solo&HallStr
035. str:Solo & Orch
036. str:Solo Quartet
037. str:Solo Pizz 1
038. str:Pizz Combo
039. hrp:Harp&Strings
040. str:Voice String
041. cmb:SynBrass&Pad
042. org:Pipe Organ
043. org:Voice Organ1
044. str:Solo Vibrato
045. cmb:FrenchString
046. sfx:THZ *
047. sfx:Flutedream
048. sfx:Extrinsic
049. hrp:HarpFantasy
050. prc:Bss/Snr/Crsh
051. prc:Pitched Timp
052. prc:All Timpani
053. prc:All Piatti
054. prc:All Snares
055. prc:All BassDrum
056. prc:Batterie 2
057. prc:Orch Bells
058. prc:TubularBells
059. prc:Celesta
060. prc:Xylophone
061. prc:Marimba
062. prc:Marimba&Pizz
063. prc:Mallets
064. str:HallLgSctn1
065. str:HallLgSctn2
066. str:FulLegHall
067. str:HallXprsOct1
068. str:HallXprsOct2
069. str:Hall Lg Plus
070. str:Hall Vel Leg
071. str:Hall Marcato
072. str:Vln/Celli 1
073. str:Vln/Celli 2
074. str:Bass/Violin1
075. str:Bass/Violin2
076. str:Vln&Viola 1
077. str:Vln&Viola 2
078. str:Viola/Celli
079. str:Bass/Celli
080. str:Hall Trems 2
081. str:Hall Trems 3
082. str:HallLgw/Tmp
083. str:Hall Spic 2
084. str:Hall Spic 3
085. str:Hall Spic 4
086. str:Hall Pizz 3
087. str:Hall Pizz 4
088. str:Hall Pizz 5
089. str:HallPizzOct
090. str:HallSpicPizz
091. str:HallLegato
092. str:Hall5Sectn 2
093. str:Hall5Sectn 3
094. str:Hall5Sectn 4
095. str:Hall5SectOct
096. str:Hall5SctExpr
097. str:Hall5SctDark
098. str:Hll5VlnViola
099. str:Hll5VlnCelli
100. str:Hll5VlaCelli
101. str:Hll5VlaBass
102. str:Hll5BssCelli
103. str:Studio Leg 2
104. str:Studio Leg 3
105. str:Studio Leg 4
106. str:Studio Leg 5
107. str:Std Marcato
108. str:Std Leg Plus
109. str:Std5VioCello
110. str:Std5VlaCello
111. str:Std5VlnBass
112. str:StudioSpic 1
113. str:StudioSpic 2
114. str:StudioSpic 3
115. str:StdSpicPizz
116. str:Combo5VlaVio
117. str:Leg Combo
118. str:Marc Combo
119. str:LegComboOct1
120. str:LegComboOct2
121. lnk:ComboPizzLnk
122. lnk:BssSnrCshLnk
123. lnk:Chamber1Link
124. lnk:Chamber2Link
125. lnk:UniOrch Link
126. lnk:OrchLink
127. lnk:PtchdTimpLnk
Presets - Bank 2
000. str:Second Mass
001. orc:Pizz Orch
002. str:HallLgTremWh
003. str:Solo&Hll5Str
004. cmb:String/Timp
005. cmb:Str/Timp/Wnd
006. cmb:Str/Timp/Brs
007. cmb:Str/Harp 1
008. str:Hall Spic 5
009. str:HallXprssn
010. str:Wind&HallStr
011. cmb:WSec/Hall 1
012. cmb:WSec/Hall2w
013. str:SoloStr&Wind
014. str:S.Wnd&S.Str
015. cmb:BSec/Hall
016. wnd:Woodwinds 1
017. wnd:Woodwinds 2
018. wnd:Woodwinds 3
019. wnd:Woodwinds 4
020. wnd:Woodwinds 5
021. wnd:Woodwinds 6
022. wnd:Warm Winds
023. wnd:BsClar/CtraB
024. wnd:mf WoodSectn
025. wnd:Mega-Woods
026. wnd:Deep Woods
027. cmb:SoloBone&Wnd
028. cmb:Brass&Reeds
029. cmb:Winds&Brass
030. cmb:WarmBrssWind
031. brs:Dyna Brass
032. brs:Sfz Brass
033. brs:SectionBrass
034. brs:Big Brass 2
035. brs:FrenchHorns2
036. brs:FHornsp/mf/f
037. brs:Trmptsp/m/f
038. brs:Trumpets
039. brs:Warm Bones
040. brs:Tbones p/m/f
041. brs:BTbones p/mf
042. brs:Trumpet *
043. brs:Trombone *
044. brs:FrenchHorn *
045. brs:Brass 1 *
046. brs:Brass 2 *
047. brs:Brass 3 *
048. brs:Brass 4 *
049. wnd:Piccolo *
050. wnd:Flute *
051. wnd:AltoFlute*
052. wnd:Clarinet *
053. wnd:English Hn *
054. wnd:BassClar *
055. wnd:Bassoon *
056. wnd:Full Wood 1*
057. wnd:Full Wood 2*
058. cmb:Flt/Clar w *
059. prc:Batterie 3
060. prc:Batterie *
061. prc:Dual Batt's
062. prc:The Timps
063. prc:VeloTimp 1
064. prc:VeloTimp 2
065. prc:VeloTimp 3
066. prc:VeloTimp 4
067. prc:Velo Timp1/2
068. prc:Velo Timp3/4
069. prc:Bass Drums
070. prc:Bass Drm *
071. prc:Velo Bass 1
072. prc:Velo Bass 2
073. prc:Velo Bass 3
074. prc:Q'd Snares
075. prc:Snare Drm *
076. prc:Velo Snare 1
077. prc:Velo Snare 2
078. prc:Velo Snare 3
079. prc:Timps&Snares
080. prc:Timp&Cymbl 1
081. prc:Timp&Cymbl 2
082. prc:Timp&Cymbl 3
083. prc:VelTimpDrms1
084. prc:Clockworx
085. prc:Piatti Metal
086. prc:Velo Piatti
087. prc:Timps&Piatti
088. prc:OrchBells
089. prc:OrchBells *
090. prc:TublrBells
091. prc:TublrBells *
092. prc:Bell Tree
093. prc:Bell Tree *
094. prc:Celesta
095. prc:Celesta *
096. prc:The Bells
097. prc:Xylophone
098. prc:Xylophone *
099. prc:Marimba
100. prc:Marimba *
101. prc:Marimba&Xylo
102. hrp:Harp 2
103. hrp:Harp 3
104. hrp:Harp 4
105. hrp:Magic Harps
106. cmb:Pizz/Harp/Mb
107. org:Simple Organ
108. org:Voice Organ2
109. brs:SynthBrass 1
110. brs:SynthBrass 2
111. brs:SynthBrass 3
112. brs:SynthBrass 4
113. brs:Synth Wind
114. brs:4th Trump
115. sfx:Bowed Radio
116. sfx:Orchbella
117. sfx:Reedone
118. sfx:Lodown Bass
119. sfx:Richdelay
120. sfx:Voxcycle
121. sfx:D Tudor
122. sfx:Multipizz
123. sfx:Orion
124. prc:Timberell
125. prc:Childbells
126. lnk:VelTmpDm1Lnk
127. :V2K 1.2
Instruments
000. :None
001. vln:16 Leg Hall
002. vln:16LegHall L
003. vln:16LegHall R
004. vln:16 Pizz Hall
005. vln:16PizzHall L
006. vln:16PizzHall R
007. vln:16 Tremolo
008. vln:16 Tremolo L
009. vln:16 Tremolo R
010. vln:5 Leg Hall
011. vln:5 Spic Hall
012. vln:5 Pizz Hall
013. vln:5 Tremolo
014. vln:5 Leg Studio
015. vln:5 SpicStudio
016. vla:15 Leg Hall
017. vla:15 Pizz Hall
018. vla:5 Leg Hall
019. vla:5 Spic Hall
020. vla:5 Pizz Hall
021. vla:5 Leg Studio
022. vla:5 SpicStudio
023. vla:5 Tremolo
024. cel:10 Leg Hall
025. cel:10 Spic Hall
026. cel:10 Pizz Hall
027. cel:10 Tremolo
028. cel:5 Leg Hall
029. cel:5 Spic Hall
030. cel:5 Pizz Hall
031. cel:5 Leg Studio
032. cel:5 SpicStudio
033. bas:6 Leg Hall
034. bas:3 Leg Hall
035. bas:3 Spic Hall
036. bas:3 Pizz Hall
037. bas:3 Leg Studio
038. bas:4 Tremolo
039. cmb:Leg Section1
040. cmb:Leg Section2
041. cmb:Leg Section3
042. cmb:Leg Section4
043. cmb:Leg Section5
044. cmb:Leg Section6
045. cmb:PizzSection1
046. cmb:PizzSection2
047. cmb:PizzSection3
048. cmb:PizzSection4
049. cmb:SpicSection1
050. cmb:SpicSection2
051. cmb:SpicSection3
052. cmb:SpicSection4
053. sfx:Vln No Pitch
054. sfx:Vln Scrape 1
055. sfx:Vln Scrape 2
056. sfx:Vln Knock
057. wav:Sine
058. wav:Sine Squared
059. wav:Sine Inv Sqd
060. wav:Sine Cubed
061. wav:SineInvCubed
062. wav:Triangle
063. wav:Square
064. wav:Sawtooth
065. wav:Pulse Wave +
066. wav:Pulse 75%
067. wav:Pulse 90%
068. wav:Pulse 94%
069. wav:Pulse 96%
070. wav:Pulse 98%
071. wav:Four Octaves
072. wav:Low Odds
073. wav:Low Evens
074. wav:Metal Wave 1
075. wav:Metal Wave 2
076. wav:Metal Wave 3
077. wav:Chime Wave
078. wav:ExitedHP Nse
079. wav:Noise IP
080. wav:Pink Noise
081. wav:White Noise