E-MU Formula 4000 Vol. 1
Hip-Hop Nation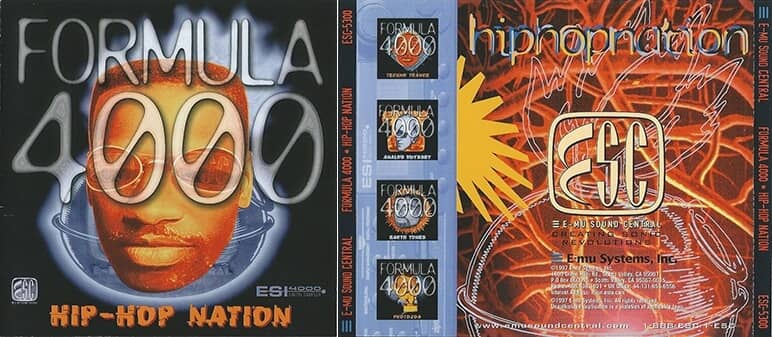 Hip-Hop Nation features: Chunky Guitar Riffs, Skunky R & B Hits,Bombacious Basses, Hot & Heavy vocals, Blown-up Brass, Crazy Cool Worms, Mad Mack Percussion, Flava Beats Posse and more.
Hip-Hop Nation features the source samples from E-MU's Planet Phatt module plus the best of the Beats and hundreds of megabytes of cool new material from the vaults of E-MU Sound Central.
Hip Hop Nation Serves up some of the spiciest presets from each bank to whet your appetite for hot tasty treats.
All Phatt – no filler.
B1 Phatt Planet contains over 160 of your favorite Planet Phatt presets specially programmed for the ESI-4000.
B2 Raw Phatt features All the RAW instrument sources exactly as they sound in the Phatt machine.
B3-27 Lotsa Hip Hop includes larger-than-life versions of Planet Phatt samples as well as over 90 Megs of unreleased material that will fill you with Rapper's Delight!
B28-40 Lotsa Beats will pump smoking grooves into your joint of choice – ready to funkify any mix, all Beats are looped. All tempos are listed.
B41 Turnarounds will heap your platter with burning turns.
With B42-44 Trigger Grooves, DJs can trigger slamming grooves with the touch of a finger. Mix Beats and chops on the fly. Who needs a keyboard?
B45-48 ESi-4000 features banks which provide ESI-4000 owners with killer patches using the sizzling new filters and FX.
Compatible with E4 Ultras, EOS and ESI Samplers (Non-Ultra EOS samplers require EOS Classic 4.0 or above. ESI-32 requires 3.02 operating system).
01. Hip Hop Nation X
02. Phatt Planet X
03. Raw Phatt X
04. SubSonic BassesX
05. Big Bottoms X
06. Stereo Guitars X
07. Funky GtrLicks X
08. Killer Worms 1 X
09. Killer Worms 2 X
10. Phatt Phemmes 1X
11. Phatt Phemmes 2X
12. Phatt Phemmes 3X
13. Phatt Phemmes 4X
14. Male Vox X
15. Vox FX X
16. Dub Vox X
17. Booty Brass X

18. Mood Trumpet X
19. Trumpet MuteFX X
20. Eclectic EPs X
21. Pretty Pads X
22. Wicked Hits X
23. 12-Bit Drums X
24. Skanky Perc X
25. Bonus Perk X
26. SP1200KixSnaresX
27. Hip Hop Kit 1 X
28. Hip Hop Kit 2 X
29. PhattBeats67-85X
30. PhattBeats88-90X
31. PhattBeats91-94X
32. PhattBeats95-99X
33. PhattBts100-167X
34. Beats 59-88bpm X

35. Beats 91-94bpm X
36. Beats 95-99bpm X
37. Beats 100 bpm X
38. Beats 101 bpm X
39. Beats102-105bpmX
40. Beats106-111bpmX
41. Beats113-123bpmX
42. Turnarounds X
43. Guit It On 78.5X
44. TriggerThis! 85X
45. Laser Tag 100 X
46. Phatt 4000 4K
47. 4000 Combo 1 4K
48. 4000 Combo 2 4K
49. 4000 Combo 3 4K